When it comes to woodworking, there are numerous tools out there to help save time, effort and make your projects look more professional. However, not all the tools should be purchased both budget-wise and storage space availability. For DIYer, the best woodworking tools are the ones that they would need or use regularly and skilled at operating.
1. Table Saw
The most important with wood working, beside picking the right piece of wood, is cutting it according to the designed size, shape, etc. Many times you would find the need to cut into large piece of woods, planks or composite boards.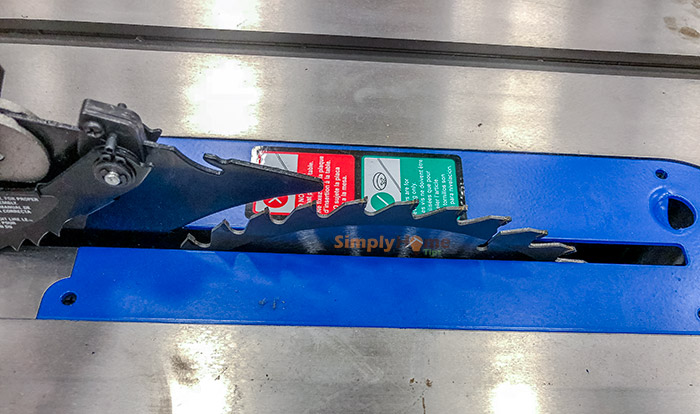 These are the jobs that call for table saw. A table saw is literally a circular blade that sticking up on a table and is best for cutting accurate angle and guided long object. Modern table saw can control the depth or thickness of how much to cut into a piece of wood, making it perfect and essential for larger woodworking projects like cabinet, rails…
In general, a table saw is like a basic, all-purpose cutting saw that most workshop will have.
2. Circular Saw
Circular saw, in short is a table saw in its mobility form, that sacrifice (somewhat) of its accuracy guide for it movability. Circular saw can be power with electric or battery is used for cutting stationary objects, i.e. things that can't be moving onto table to use with table saw.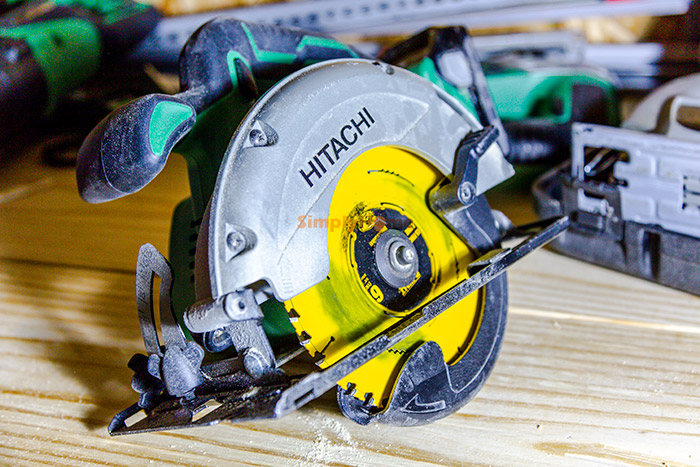 Due to its mobility, circular saw doesn't have guide or platform, thus cutting accuracy is as much as your skill. Of course, there are table that you could place circular saw upon to turn its to a table saw.
3. Hand Saw
A simple, or also call panel saw, that uses to cut or trim wood pieces. Hand saw is of course, operated by hand and probably the most budget of all the saws.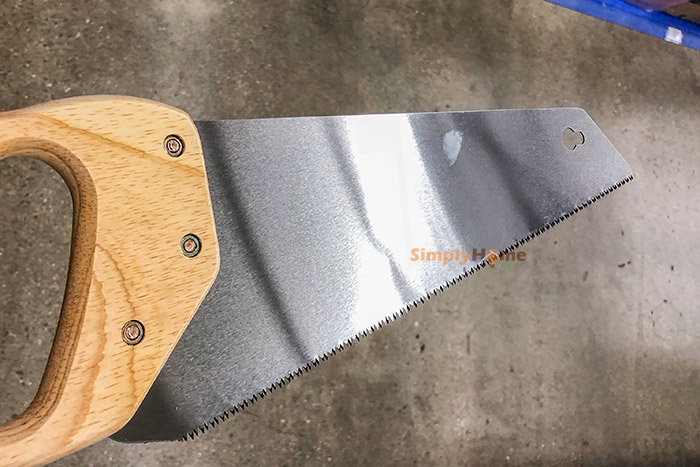 Typically, you will need a powered saw in big projects to process through large amount of materials precisely. But for small projects, such as installing a piece of trim, door, or similar, a hand saw can be of use. Because it's light and less storage page, most diyer would have one anyway.
4. Miter Saw
For extremely precision woodworking, a miter saw is needed. A miter saw is equipped with circular blade like table saw, but instead of all-purpose general woodworking, miter saw is more for accuracy cutting needs.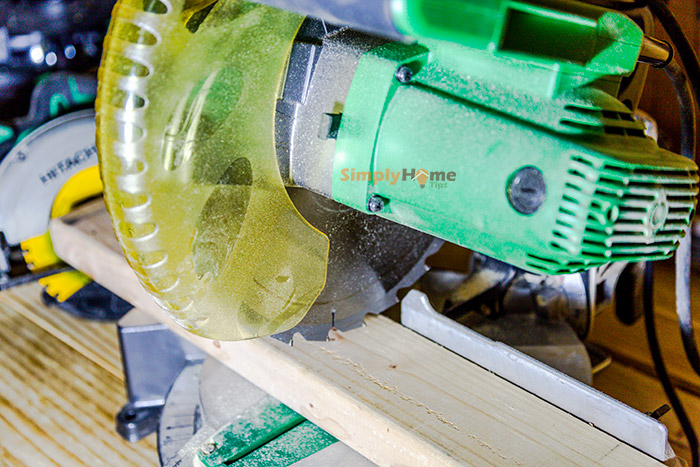 As the name implied, miter saw is best for crosscut, miter, bevel and compound cuts. It works prefect for trimming and angular cuttings on softer woods. Best thing is, miter saw is pretty mobile, as in, you can carry it easily to places, for both traditional or stationary projects.
5. Reciprocating Saw
Instead of cutting details or trim, reciprocating saw is a strong, powerful kind of saw that more gear toward cut or tear down existing materials. Reciprocating saw can cut through any types of materials, be it wood, ceramic, thicker boards, etc.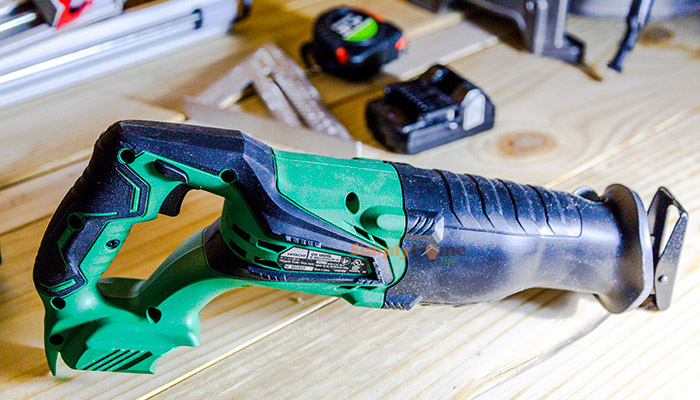 Reciprocating saw is available in both cord and cordless versions. The cordless which is battery powered are light and full on mobility. Though the corded version would definitely on the upper hand with constant, stable and high in power.
6. Jig Saw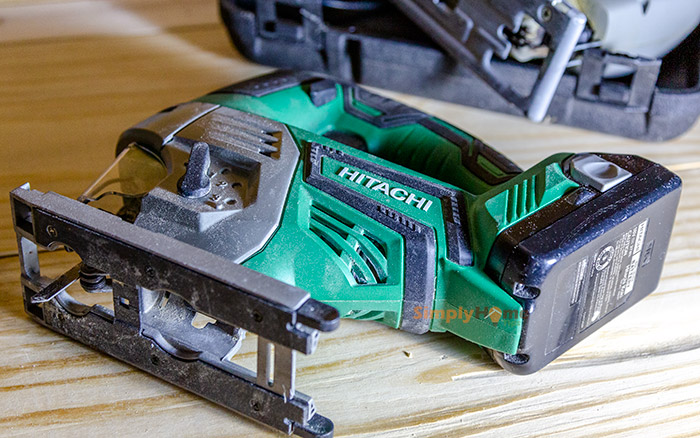 Jig saw is simply put, a category within reciprocating saw with similar design and outward appearance. Though, jig saw is actually for more detailed, delicate and smaller cutting jobs of straight, ripping, bevel or curve.
In some cases, jig saw blades and reciprocating saw are interchangable.
For more about types of saws check out this article.
7. Claw Hammer – Rip Hammer
A small yet heavy construction with steel head and hard body, claw hammer is an indispensable tools to carpenters and woodworkers many years back. This is due to its uses of driving nails in and pulling them out. With the arising easiness of air nailers, claw hammer is receiving less and less attention.
Though, another similarly built to Claw Hammer, the Rip hammer still have its favor within many woodworker, due to its wide using area. Those include but not limited to: ripping wood, small object straightening, small wrecking/demolition tools, caulking plunger, hole digger or as a life-saving hammer.
8. Sanders​ and Sand Papers
Sanders or sandpapers are needed to strip down old paint/wallpaper, smooth rough spots, and prepare surface for coatings. Typically, sanders are used to call those handheld/stationary powered devices that hold the sandpaper and vibrate, oscillate or move to glaze on the working surface.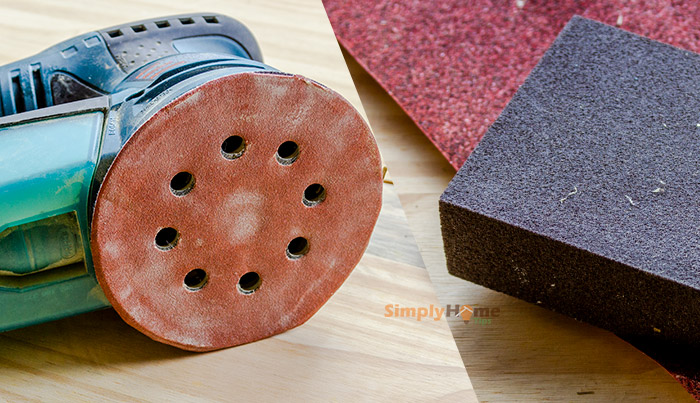 There are many types of sanders available, some are standalone while others are attachments for the household powered drills. Nonetheless, every DIYer should have one of these as sanders are vital in many woodworking projects.
9. Safety Measures: dust mask, Work gloves and safety glasses/goggles
For your protection, woodworking dust mask, gloves and goggles/glasses are indispensable. While the mask protects your respiratory system, working gloves and glasses help prevent you from any mishap.
To be on the safe side, having a couple pairs of gloves, goggles and boxes of dusting masks near the work site deems necessary.
10. Power Drill/Driver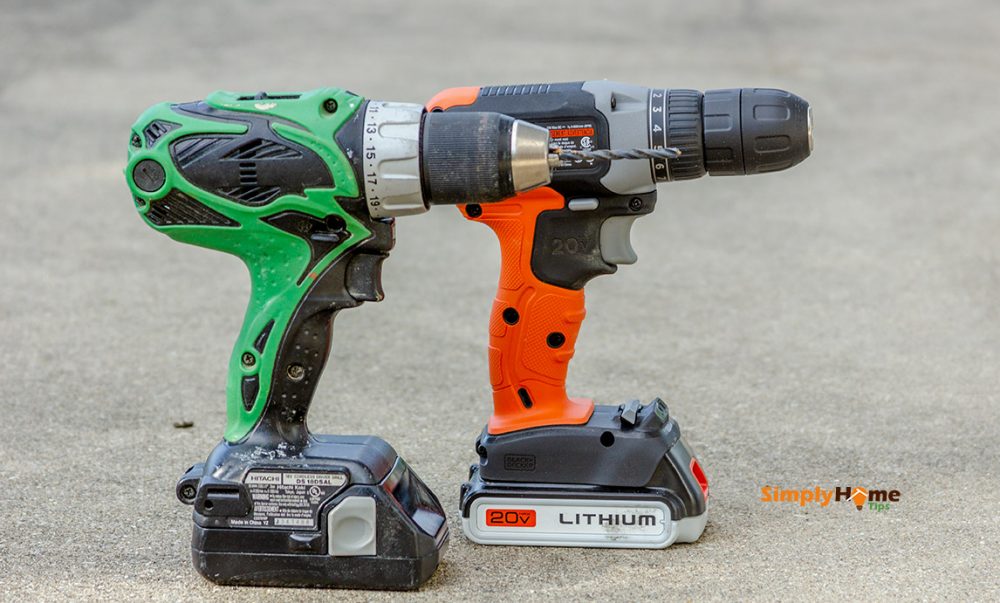 One of the most useful tools in your woodworking equipment would be the power drill driver. Not only for drilling holes, big and small, there are many attachments on the market which enable this power tool's capabilities.
For instant, a power drill with attachment can sand surfaces, mix grout/concrete, remove crust, fasten pocket-hole jig, grind ingredients…
Power drills are available in both corded and cordless versions from very affordable budget to high price tags. If you're new to woodworking, consider buying a cordless power drill, as not only a woodworking necessity, it's a household hand-saver.
11. Drill bit set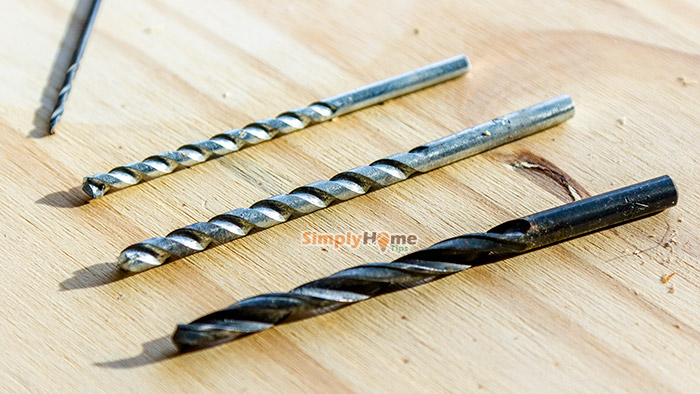 If you're getting a power drill, don't forget to grab a set of drill bits as well. Look for those set with various sizes, shapes, and materials as these will come in handy.
12. Wood Glue
Wood glue works as bonding agent for porous wood pieces. Most wood glues are easy to use, with water-resistant capability if seal correctly. The joint line would be natural or invisible clear making wood glue the better option for joining woods on small or decorative objects.
For woodworking Diyers, look for those wood glues with non-toxic, fast drying time, strong hold, and water resistant features are recommended.
13. Pocket hole jig
To make pocket hole, a pocket hole jig is recommended. You can drill a pocket hole without one, but the work and accuracy requirements are certainly too much if you're needing any large number of pocket holes.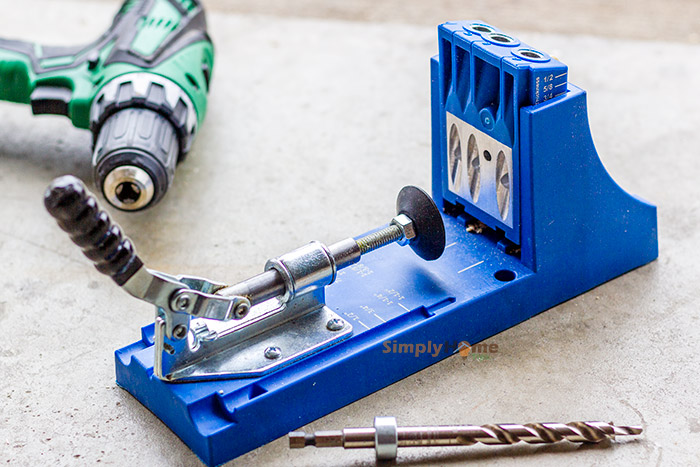 For those who still in question, pocket holes are screwed holes in wooden board at an angle. This is to help with stronger connection when there's need to join wooden boards at a right angle.
14. Saw Horse
Saw horse is a beam-support with 4 legs in A-frame figure. Most saw horse is built at fold-able for easier storage. To saw wooden boards, planks, etc. you would need two of the same size saw horses.
15. Work Bench
Simply put, work bench is a table that all your woodworking like carving, shaving, sanding, polishing…will be performed on.
If you're a frequent diyers with multiple projects, it's better to have a dedicate space for a workbench, whether it's the mobility version in your typical garage or the stationary work bench in a full woodworking workshop. There are a wide range of styles and budgets available for workbenches. Bring from a simple table with dog holes, to full size super heavy duty table.
16. Router
Router is rotating head with powered motor. This tool has very versatile functions and can perform multiple tasks quick and efficiently due to the number of wide attachments. Typically, a router can be used to hollow out holes in wood, cut out bevel frame/raised panel, sand/buff shine metal, strip paints, cuts joints and groove…
In general, these tasks can be done with other tools as well, but with a wooden router, they can be finished faster, more accuracy and definitely a smoother finish. So, if you're a frequent diyer with some budget to spare, looking for a wood router with assort attachments can help your project tremendously.
17. Shop-Vac
Between or after project, cleaning up is an essential task. After sanding, painting, shaving…which will generate lots of dusts, sometimes both dry and wet.
For your convenience, a shop-vac or also call wet/dry vacuum can safely pickup liquids and well as solids like debris, strayed nails, screw, etc. This is because a shop-vac is equipped with bigger hose, canister and of course stronger suction with giant motor.
18. Clamp
To keep wood board or anything stay put, clamps are need. This is vital when you're adding adhesive (wood glue), painting, carving, nailing etc. any jobs that require the piece to stay still.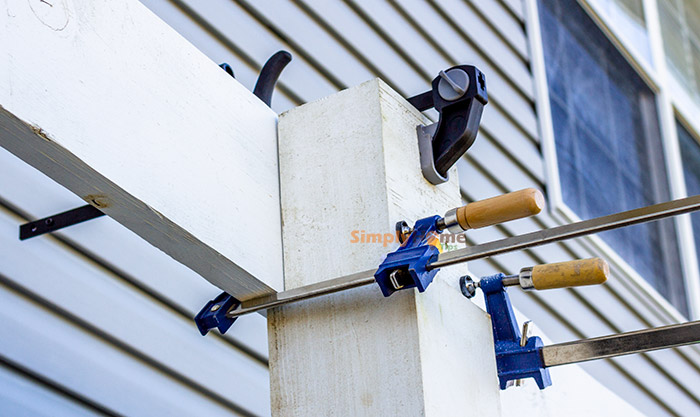 For general woodworking, purchase some extra pairs of clamps, you'd never know when they might come in handy.
19. Chisel
Look much like a scraper, chisel is one of the necessity in wood carving tools. There are many different kinds of chisel, and one would fit the work better than the others. Typically with a chisel, you can do any of the carving, paring, trimming, joinery., bevel..
Since Chisel is not that high budget, you can get a couple frequently uses or simply a whole set of every kinds.
20. Screwdriver
Screwdrivers come in handy whenever you need to drive/undrive a screw, especially on those soft material that might get overworked with power tools or small/hard to reach areas.
For the purpose of woodworking, it is generally wise to have several kind of screwdrivers on hand, ranging from various sizes to purposes. As a matter of fact, these screwdrivers are handy around the house too.
21. Tape Measure
For basic to all purpose measuring, a tape measure is needed. A tape measure is a flexible ruler that is used to measure distance with one metal hook on one end and a retractable mechanism.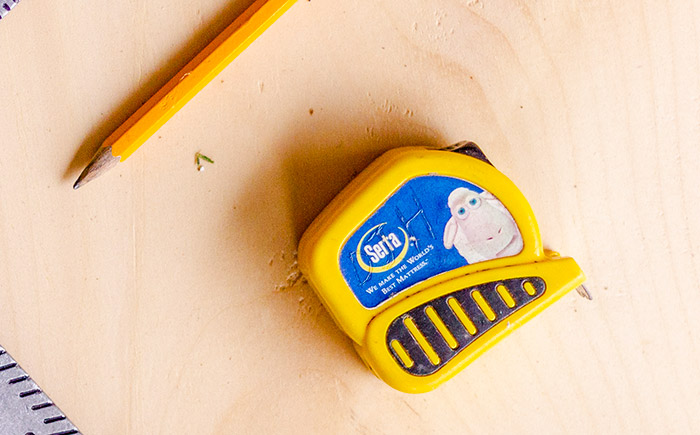 Measuring tape is a must-have, whether you're an occasional Diyer or a full-time carpenter.
22. Caliper
Caliper is another measurement device that is used to measure the outer/inner diameter of an object.
For woodworking, caliper is necessary to measure both outward or inward distance, screw head, drill bits…
23. Level
Another of the woodworking measuring tools, the level is there to help leveling thing according to the ground. This is a required step for any permanent or semi-permanent project, e.g doors, wall mounted, mantle, fence…
On the market, there are digital levels that works with their sensors while the standard ones have to be read though their vials.
24. Layout/Speed Square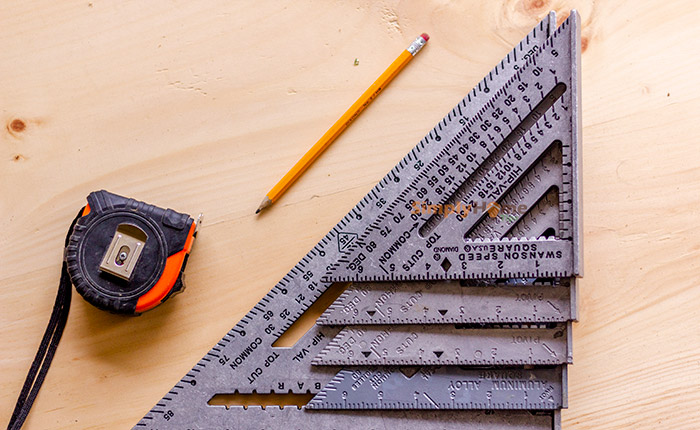 A speed square is useful in many ways, as it combines square, framing square and try square into one. You can use it to aid in measurement, markings, sawing guides of 45/90 degree angle cuts.
Obviously there is a lot more tools for woodworking projects, but for a starting diyers, some or most of all the above would be sufficed. Don't skimp on your tools, as the best set of tools might save you from a lot of time and frustration, and in cases, might even work like a second helper. Practice your skills and mastering these tools are important as well, after all, woodworking tools are only worth if you're using them.