A speed square is a triangular-shaped tool used for woodworking, framing, and even tile work. Other names used for a speed square are rafter square, rafter angle square, and triangle square. Made of wood, aluminum, or steel, the speed square has many features to make measuring and cutting materials easier for a person.
Speed Square Characteristics
The first side of the square is marked in inches, like a ruler. The second side has a raised edge and can be butted up to a piece of wood or the workpiece of choice. The third side, and the longest side of the speed square, has degree marking for use with a miter saw.
Speed squares come in a variety of sizes, but the most common sizes are a seven-inch triangle and a twelve-inch triangle. Project size and the type of material will determine how large of a speed square you will need to buy.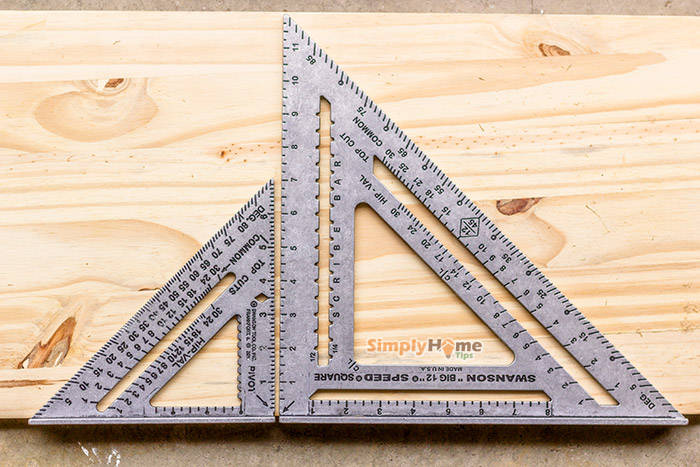 For instance, if wanting to work with large lumber, the seven-inch speed square would not be a wise choice. You would want to choose the twelve-inch speed square. But for smaller lumber, the seven inches would work perfectly.
In the tile or any flooring industry, a speed square comes in handy to make intricate cuts that cannot be hand-drawn. If you are laying tile or wood flooring around a kitchen island, you can measure the cutting distance with a speed square. Then mark it by laying your speed square on your material (wood, tile, laminate) and make your precise markings with a permanent marker or pencil.
All you need to do after that is to take your piece to your grinder or miter saw and make your perfect cut and repeat.
Reviews on The Best Speed Square Tools
Before buying, it is helpful to know how a speed square works and how it can benefit you.
This article provides a basic guideline of reviews, and how to choose a speed square that will work for your specific job. Included are different types of speed squares you can choose from, basic features, and customer satisfaction reviews.
Here are some top choices for the speed square, reviewed by the manufacturers, as well as buyers. All of the speed squares have outstanding ratings for customer satisfaction.
1. Swanson Tool SO107 Speed Square Layout Tool
Most customers say the measurements are true and the speed square is easy to use and has a simple layout.
The Swanson is great because of its small size, features of the framing, tri, miter, and protractor squares, includes a slot along with the scales with an adjustable locking pin for multiple cuts, and also comes in many sizes:
The Original Speed Square 7-inch.
The Big 12 with Layout Bar 12-inch.
The Metric Speed Square 14.5 cm.
The Speed Square (plain) 7-inch.
The Big 12 (plain) 12-inch, and the Speed Lite 8-inch.
2. DEWALT DWHT46031 7-inch Rafter Square
The DeWalt square includes contrasting colors for easy reading, has a thick aluminum body for industrial use, and can also serve as a saw guide. Its base is large enough to help to provide a better grip on materials and the scribe lines are helpful for marking cuts for sawing.
3. Woodpeckers Precision Woodworking Tools PTR46SET
The Woodpeckers Set includes a four-inch and six-inch triangle and features stamped inch scale markings on all three legs. Made from aluminum, it is buffed to a non-glare, satin finish.
This speed square falls into a more expensive category, but nonetheless a quality tool. Most customers say that they would rather pay more money for a tool that will last longer and is more accurate in its measurements.
4. Empire 3990 12-Inch Heavy-Duty Magnum Rafter Square
The Empire includes stamped conversion tables, the ability to mark and cut large boards (as large as twelve inches wide), options use as a safe saw guide, and includes notches for measuring.
This speed square is quality for its value, although there were a few unsatisfied customers saying it was out of straight and not a true 90-degree measurement.
5. CH Hanson 03060 Pivot Square
One nice feature about the CH Hanson is the level feature for added measurement security. The speed square can be set to fix at an angle to mark cut lines repetitively in both degree and roof pitches. The CH Hanson also includes three levels for determining pitches and angles. The body is made from aluminum alloy and is quite durable.
While most people gave this speed square an enthusiastic thumbs up for its rating, some said that the lock on the slide slips too frequently.
6. IRWIN Tools Rafter Square, Hi-Contrast Aluminum, 7-Inch
The Irwin includes engraved stamping, as well as colorful numbers on a dark background, for easy readability. It is weather-proof and will not rust.
Some customer complaints included that the paint chipped off after use and made reading the numbers hard or entirely impossible.
7. Stanley 46-053 Premium with Adjustable Square Layout Tool
This Stanley speed square includes an adjustable quick layout tool with a base length of 10-3/4″ and a rule length of 6-3/4″. It is made for industrial use and the aluminum body will withhold frequent and rough use. The speed square's black body with yellow markings makes for easy readability. It includes Common, Jack & Hip, and Valley scales. It can also be used as a protractor, saw guide, or bevel for all your project needs.
Various customer complaints include bumps and defects along with the finish of the tool which can make accurate measurements hard to get.
8. Swanson SW1201K 7″ & Big 12″ Speed Square Layout Tool Kit
Included is a seven-inch and twelve-inch speed square in this bundle. Both squares are made from aluminum alloy with a matte finish. Quarter-inch spaced notches divide the measurements for easy marking.
Here is another Swanson, but this time it is a value pack with two different sizes. Most problems with this speed square were about the Swanson being a true straight tool and warped along the edges, making it hard to butt up against their work.
9. Johnson Level & Tool 1904-0700 7-Inch Rafter Square
The Johnson square, made of an aluminum body, can double as a saw guide. Different levels make it easy for determining pitches and angles. Its engraved markings make for easy readability.
Customer complaints about this speed square include that the pivot notch is incorrectly drilled, and could use some inch markings along the sliding butt to make more markings than it allows.
10. VINCA ARLS-07 Aluminum Rafter Triangle Square Layout Tool
This Seven inch square comes with multiple scales; 1/8-, 1/10-, 1/12-, and 1/16-"; and is accurate within 7" x 0.001. The Vinca features engraved markings on a dark background. This tool is good for industrial use because the body is formed from aluminum. Included with your purchase is a rafter conversion table, helpful for those who want accurate measurements at a glance.
Multiple customers voiced that, while made from good quality material, the Vinca's flat side warps (from manufacturing) and bends, which means they cannot lay it flat on a table or piece of wood.
Before You Buy: Guiding Thoughts
Which type of speed square you buy all depends on your job, as well as personal preferences. Speed squares come in plastic, aluminum, and steel material, so choose which material is right for you.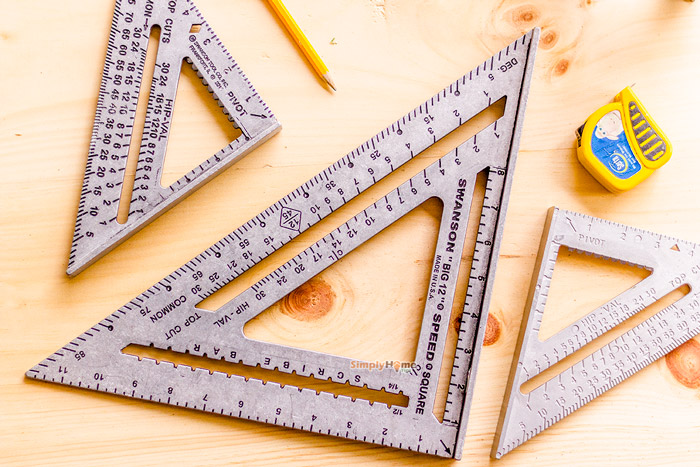 If you are a framer and are working in places high above the ground, you may want to choose aluminum material for a lightweight option. If you are working in a shop on the ground, you could consider the steel speed squares because you don't have to carry them around. Some people like the extra weight while they are measuring and marking.
Plastic speed squares are usually recommended if there is no other type of speed square available to you. Though light in weight, plastic speed squares tend to have a short life span in the construction or woodworking field because they break easily.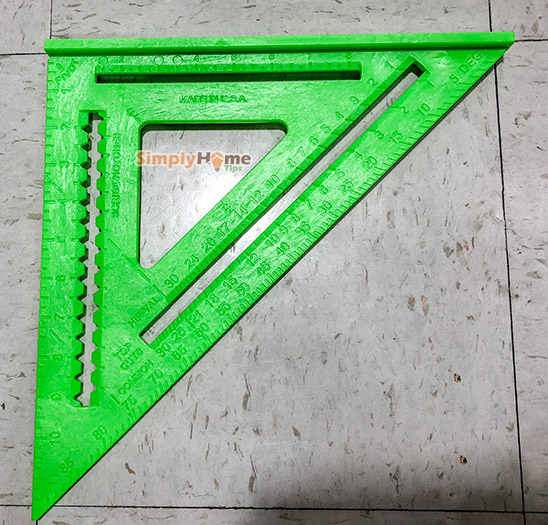 Another thing to take into consideration when buying a speed square is the markings. Are stamped in or are they only printed on the tool? You want to buy a square that has stamped markings because it will not rub off or fade after heavy use.
Other features like protractors are very helpful if you are dealing with circles or hard to draw shapes while working and cutting. Levels are helpful for roof pitches and for finding different angles.
Whatever size, material, or the price you buy your speed square in, take the time to test it and make sure the measurements are relatively accurate. Check for warps and defects in the metal as well. This will ensure you are getting the most out of your tool while creating the best quality products you can.