Mowing lawn, watering, and maintaining your outdoor landscape can consume lots of your free time. Unless you're the few who enjoy spending their weekend in gardening works, otherwise converting your lawn to a low -maintenance one might be a good idea. Take these tips, start transitioning your backyard and see yourself spending more quality time enjoying the outdoor instead of working on it.
Deck, patio, and outdoor living space
Literally, the easiest lawn is the one you don't have to mow or water. By adding a deck, patio, or gravel pathway area to your outdoor, you take away the space for grass and other plants. Obviously this will result in much less lawn-mowing, trimming, watering, and all other maintenance work.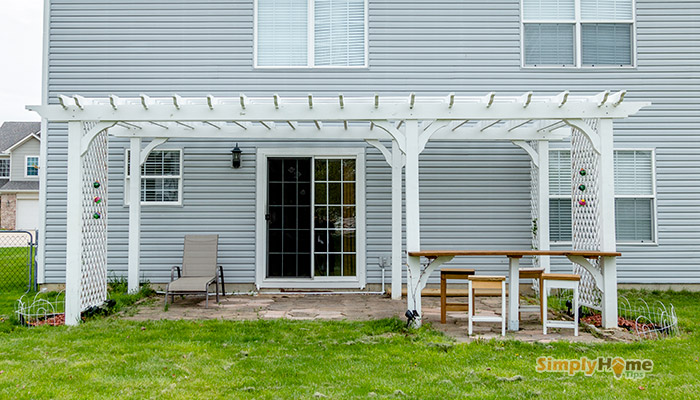 Since these projects are more or less permanent, plan to have a solid foundation on them. For example, having the area leveled before installing your stones patio would save you from the need to re-leveling in the future. Don't forget to grout them or have mini pebbles/stones to fill the ridge/edge.
Plant easy-care Perennials
Flowers and plants bring color and lives to your garden, though some of them would require lots of time dedication into trimming, fertilizing, pruning, etc. Planting perennials would save you time on maintenance as well as the cost to replace every planting season.
Most perennials plants are easy to take care of and require less attention while providing a longer blooming duration.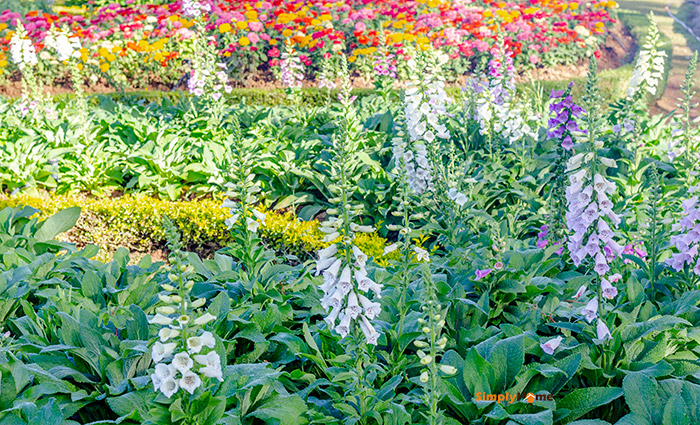 Lavender, Lily, Tulip, Hosta, Phlox, Hydrangea, Aster, Coneflower, Allium, Dianthus, etc. are all great choices for their beautiful flowers, ease of maintenance and would grow back year-after-year.
Rubber mulch or pea gravel for long-lasting flower bed accentuation
So once you got your flowers in place, instead of leaving them bare topsoil or let it covered with grass, try to use mulch, rock, or gravels instead. These not only will accentuate and make your garden look more stylish but they also actually help your plant to be healthier too and keep the weeds at bay.
Typically any place you mulch or cover, there will be less place to mow. Mulch helps keep the heat away from the soil beneath; their color makes the whole flower bed stand out more. Natural mulch can help retaining water and feed to the soil, so you don't have to water the plants as much and keep the weed under control as well.
However, natural mulch will need to be replaced every year since they will decay down to the earth. For the area that does not have plant, aka just for ground covering, try rubber mulch instead. Rubber mulch can last for years and pest-resistant.
Pea gravel, mini pebbles, or cracked river stones can be used as well. They will give that modern or South Western look and feel. Though they don't keep the soil underneath as cool as mulch, they are much better in windy areas due to the heavier weight.
Install an auto Irrigation system
If you have a larger lawn or garden and keep seeing yourself watering them day after day, try to install an irrigation system. With a proper professional installed system, you won't have to pull out that hose and spend hours on watering.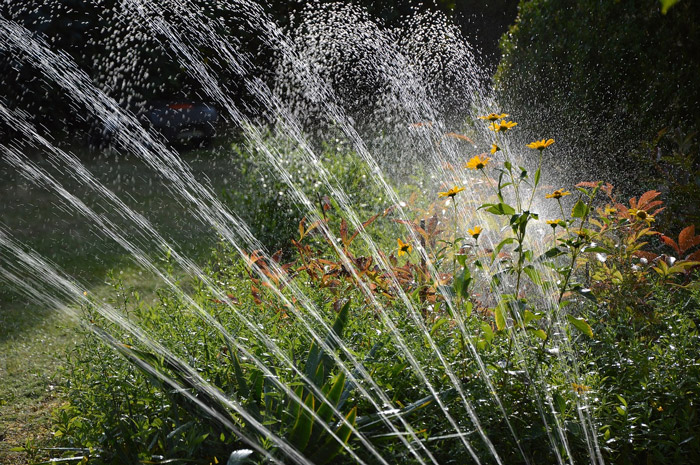 Not only that, by incorporate and config the right types of sprinklers, all of the work can be scheduled and done automatically when you're at work or away on vacation as well. No more under-water plants or overflowing to the sewer.
Xeriscaping
Sometimes, when you don't have enough time to take care of the grass adequately, consider some ground covering alternatives. Xeriscaping is one of the trendy landscaping styles designed for dry areas with limitations to the irrigation system. This landscaping style gears toward replacing grass with rocks/mineral materials and regular plants with drought-tolerant varieties.
Remember how cactus survives in the desert naturally, that's how it is. You want plants that not only bring the colors but also could grow strong by themselves. Agave, lithops, jade plant, Harworthia, bunny ear cactus, claret cup, blue flame, etc are all kinds of plants that store water within their thick leaves or body, hence you don't have to water or fertilize for them as much.
Alternative ground covering
As the above mention, instead of mowing the lawn every weekend, you can opt for a more variety of ground covering plants such as azalea and shamrock, or simply turn the majority of the grassy area into synthetic mulch, gravels, and stone patios.
If you want some green, create grass patches of square or rectangular shape and contained those within stones and pebbles boundary. That way, it's easier when there's a need to cut and less on the trimming work.
But do remember to make a good foundation and have some sort of weed-preventive measurement. Simply put, the more work you put out upfront for planning and constructing, the less you will have to work on maintaining and replacing later on.
Still, a low-maintenance is a good idea, but it's important to find the balance point between after-care workload versus having an all-natural and worry-free backyard.