As the season turns, the need for a well-built and reliable car tools kit is increasing. Whether it's a long-trip preparation or daily commutes in weathered condition, it is always important to have one of these kits available at a hand-reaching distance in your car. While many contain all the essentials, some kits go far and beyond to ensure your trip is as smooth and easy as all imaginable issues may arise.
Lifeline AAA Destination Road and First Aid kit
This kit is actually a roadside assistant kit with first-aid essentials all packed together in a nice red suitcase with the AAA logo affixed on it. The Destination Road Kit from AAA is unique for featuring an air compressor to help with flat tires, refill the camping mat, inflatable raft, bicycle tires, etc. This pump can be powered via the cigarette lighter.
There are a total of 68 pieces including the hard shell w/ red foam case. The list of items includes:
10ft 8 Gauge Booster Cable
Air compressor or tire inflator
Pen-style tire gauge
Flat Head and Phillips screwdrivers
Pliers
Nitrile gloves
Duct tape
Bungee cords
Window-mounted emergency warning triangle
LED Headlamp with 3 AAA Batteries
Emergency poncho
Utility knife
Whistle
Shop clothes
Cable ties
45 pieces First-aid kits: bandage, adhesive tape, antiseptic towelettes, sterile gauze
First-aid guide
Accident form
AAA brochure
All the items' quality seems okay as there are lots of items that would save you time and effort when something happens. Plus the case is compacted enough for traveling while being roomy enough to add or replace your other necessity.
Roadside Emergency Assistance Kit
A pretty neat combination tools kit that has a blend of first-aid necessities along with some mechanical gears to fix minor issues. This kit comes with a first aid kit (small/medium/large bandages, sterilized gauze pads, alcohol prep pads, wet tissues, emergency scissor, tweezer, medical gloves, arm slings, safety pin, and support wrap ), 10′ jumper cables, 12′ 5-tons capacity tow strap, 11-in-1 multi-tool, flashlight, 100PSI tire pressure gauge, 2 bungee cords, fire starter, windshield breaker, seatbelt cutter, emergency whistle, reflective warning sign, mechanic gloves, disposable one-size poncho, thermolabile mylar blanket with highly heat-reflective.
All these items cover a wide range of needs from minor cuts, injuries to milder crashes. Common mechanical and also daily usage items also included. Yet everything is packed neatly in the heavy-duty duffle bag with space to add your other necessities.
This kit is a must-have for any traveler or as a gift to your frequent commuters.
Apollo Travel and Automotive tool kits
This is another automotive kit that focuses on tools to fix common and minor issues on your road trip as well as your daily commute. The 64 pieces were neatly organized inside a soft case with plastic embedded.
This car kit contains a tire gauge, nylon string, electrical PVC tape, voltage tester, plastic flashlight, heavy-duty 12 ft booster cable, ratcheting bit driver, 7″ brass wire brush, 6″ long nose pliers, 3/8″ x 1/4″ adaptor, 6″ adjustable wrench, 3/8″ socket ratchet handle, 3/8″ drive 5/8″ sparkplug socket, 1/4″ drive 3″ socket extension bar, 3/8″ drive 13/16″ sparkplug socket, six hose clamps, twelve 1″ bits: T15, T20, T25, T27, T30, H1/8″, H5/32″, H3/16″, H1/8″, PH1, PH2, PH3; twelve 1″ bits: 1/8″, 5/32″, 3/16″, 1/4″, PH1, PH2, PH3, PZ0, PZ1, PZ2, PZ3, 1/4″ adapter, nine 1/4″ drive metric sockets, nine 1/4″ drive SAE sockets and a life hammer.
All of the above tools are coming with a limited lifetime warranty, so that's a good thing to consider. With so many tools and devices included, this kit is still compacted enough to fit under the seat or in the trunk and light enough to carry around. So if you're looking for a simpler and miniature or lighter version of mechanic tools for your car, RV or boat, this could be a good start.
First Secure Car tools kit with air compressor
The first secure car tools kit is an elegant package that can be fitted under the seat just fine. It comes with 10ft jumper cables, an 11.8ft tow strap, a 250PSI air pump that can be connected via the cigarette lighter, a 7-piece tire repair kit, a windshield hammer, a tire pressure gauge, cable ties, bungee cord, multi-tool, electrical tape, LED headlamp flashlight, reflective warning triangle, and a first aid kit.
The advantage of this kit is, as noted above, they included a cigarette-powered air compressor as well as a tire repair kit. This would help tremendously when you have a flat tire in the middle of nowhere during your long road trip. Even daily commute work, too, since you can quickly fix the tire and avoid the expensive towing fees or further damage to the tire.
Another good thing is these kit materials are really well made, as they include tools that are as good as you would single-handly buying them piece-by-piece.
Professional Automotive Car Emergency Kit Essential Tool Kit with Easy Entry Long Reach Grabber,Inflatable Air Pump Wedge Pry Tool Kit Working Gloves and Safety Hammer
This is not the usual car tools kit that you actually keep in your car for daily commuting or long road trip, but rather an emergency kit that should be present in your garage/car to help your close ones get back into their cars. This kit comes with all the tools necessary to help out those moments such as a forgotten key in a locked car or an accidental lock-in from the kiddo.
This emergency car entry comes with an air wedge bag to raise and elevate the gap, long reach grabbers, gloves, a safety hammer to break the windshield, non-marring wedges, and a bag to carry them all. It also included a trimming tools kit that is great for installing/removing car audio systems, panels, molding, trims, etc.
Guide on Buying and Putting together a Car tools kit
So, what exactly are in a car tools kit? Typically a car tools kit might contain some first-aid elements like bandages, alcohol wipes, … and common automotive tools like battery jumper cables, tire gauge, tire replacing tools, etc. All of those are compactly stored in a sleek and mobility case so that you can stuff them under seats or leave them in the back trunk.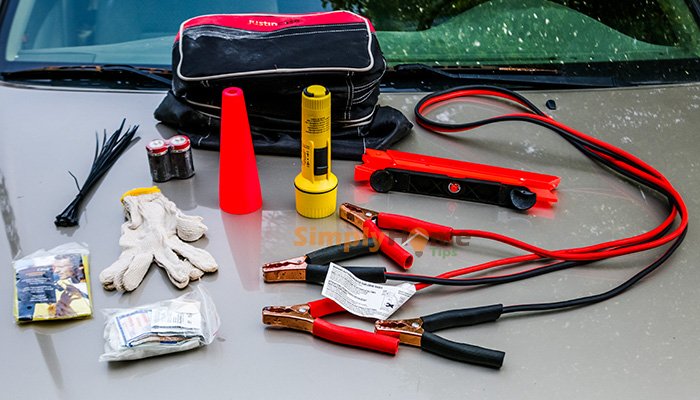 Though, some kits might work better in different seasons or for driving purposes. It's better to buy one or two basic kit(s) and then add other tools to it for every occasion than get a bulky large pack and cost lots of storage space.
Firstaid kit: most emergency car tools kits will contain first-aid items to treat minor wounds and cuts. Some even go an extra length to put in aspirin and other pain-relieving medicines. If yours doesn't have one, get a plastic container and place it in the necessities before your road trip. For a daily commute, it's better to replace those pills occasionally.
Battery Jumper Cables: this would be the most common item in emergency car kits. Nonetheless, if you didn't have one, look for those around 10-12 ft long to save time and convenience in positioning the other car. Better yet, getting a portable Battery car charger and keeping it charged would be even better if you can't find any passerby or need sudden juice.
Emergency sight: just a simple standalone sight in bright color with a reflector attached to it.
Automotive & Mechanical tools: a set of frequently used automotive tools such as flathead or Phillips screwdrivers, wrench, socket set, pliers, wire cutter, duct tape, etc.
Pocket knife: it's always a safe practice to have one pocket knife, whether it's for daily use or some special situation.
Life hammer/seat belt cutter: get one of these safety devices and place them where you can reach them in case of an emergency requiring immediate evacuation from the car.