Even some experienced DIYers have encountered the dilemma of choosing between a jigsaw or a scroll saw for woodworking projects. There are people that assume that both the jigsaw and the scroll saw are indeed the same tool, and the fact that both saws can each produce similar results (curved cuts in wood) seem to further the confusion about how to differentiate between these two very different saws.
Though there are similarities between the saws, there are ways to tell them apart, and what can be expected when purchasing either. Here are the differences between scroll saws and jigsaws and the projects each tool may be used for.
What is a Jigsaw?
A jigsaw is a power tool made of an electric motor and a reciprocating blade anchored at the top of the saw. It is an easy to use tool that can cut many different, thick materials.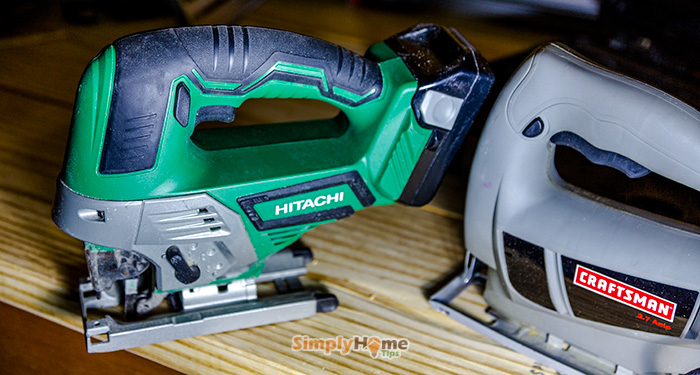 There are many options to choose from when purchasing a jigsaw, with some manufacturers offering battery-operated saws and easier blade replacement functions. This handheld saw can be corded or cordless for ultimate portability around the house or garage and can handle many projects including:
Making curved cuts in wood – he thin blades and low weight of jigsaws make it easy for woodworkers to follow tight cuts and curved lines.
Plunge Cuts – plunge cuts are great for cutting holes for sinks and other countertop home remodeling projects.
Cutting Ceramics and Steel – the ability to easily change blades on a jigsaw also allows users to cut materials of varying thickness.
It is entirely possible to purchase a brand-new jigsaw for under $100 and even nab some nifty features. Just be sure to compare different brands and customer reviews before making the purchase.
Woodworkers looking for a tool that can be used in a variety of projects tend to opt for the jigsaw. Its ability to tackle and cut an assortment of different materials makes the jigsaw a great addition to any tool shed.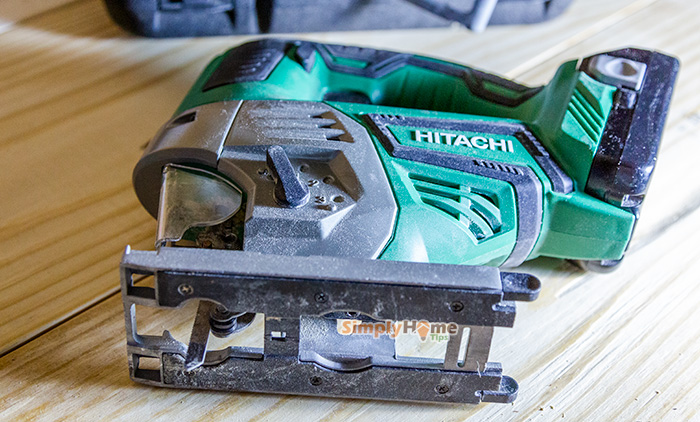 Where the jigsaw shines in portability and project versatility, it lacks in detailed cuts. Woodworkers looking to create intricate and precise cuts may opt-out of purchasing a jigsaw for that particular project and may go for a scroll saw.
What is a Scroll Saw?
A scroll saw is a stationary table saw with a thin blade anchored both underneath and on top of the tool. The saw looks somewhat like a sewing machine and can come with its own table, or can be placed on a desk or table in the work area.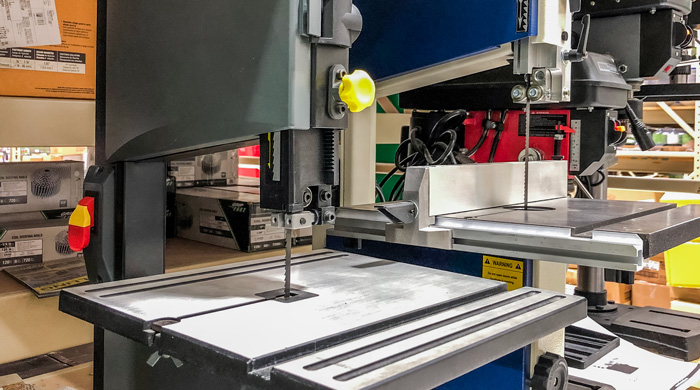 Scroll saws are best used with woods less than 2 inches thick due to how thin the blades on the saw are.
This saw is typically used for special projects that involve detailed designs. Use a scroll saw to complete projects such as:
Lettered Designs – these decorative components will add personality to any home when placed on mailboxes, front doors, and in dens.
Dovetails – these joints are used in Carpentry and home improvement projects (cabinetry)
Crafts – the thin blade of a scroll saw makes it the perfect tool for creating beautiful craft projects like the one here.
Scroll saws can be purchased for under $200 and can be maintained for many years. Replacement blades are inexpensive, and many scroll saws now come with dust-blowing and lighting features that makes viewing easier while the wood is being cut.
Using a scroll saw is often considered a specialized skill because of the beautiful designs often created with the saw. But it is a skill that anyone can learn and continue to perfect over time.
The beauty of the scroll saw is how it can create intricate designs, but its stationary component and inability to cut through thicker woods can be a turn off to some.
When is Each Saw Needed?
A good rule of thumb when choosing the right saw for a project is to think about the material that needs to be cut and the desired outcome.
Jigsaws are great for cutting thicker woods and materials such as ceramic and steel, home improvement projects and demolitions.
Scroll saws are used in specialized projects that call for intricate patterns, such as home craft designs and cabinetry.
If these tips are kept in mind, choosing the correct saw will be hassle-free.