Poorly-made miter saw stands that can't handle the weight of the saw and boards will make your job more difficult and can even ruin the miter saw if it collapses. Completing precision cuts can also be a problem if the stand doesn't support the board and hold it firmly in place. Be prepared to invest a little more money for a good stand if you'll be using it every day. The old adage, "You get what you pay for." is every bit as true for miter saw stands as it is for any other tool. You don't necessarily have to invest a fortune to get a good miter saw stand. Just don't settle for the cheapest stand you can find.
Reviews on the best miter saw stands
DeWalt DWX726 Rolling Miter Saw Stand
The rails on the stand are also very easy to adjust to securely hold almost any type of miter saw available. This is a sturdy saw stand that is constructed with tubular steel to support up to 300 pounds. The adjustable outfeed and infeed material supports allow for a total of 8 feet of board support.
In addition to all of this flexibility, the DeWalt Rolling Miter Saw Stand only weights 67 pounds. It is 2 3⁄4 feet wide by 8 feet long when it is set up and folds down to only 1 ½ feet by 5 feet for easy portability and space-saving storage. The stand is well balanced and very easy to move from place to place at the work site on its wide rubber tires.
Pros:
Sturdy construction
Easily portable
Space-saving design
Holds nearly any type of saw
Cons:
Difficult assembly
Balancing leg extension is too short, causing the stand to tip easily when set up on uneven ground. Be sure to set it up on an even floor to prevent tipping.
Work support arms can make the saw table difficult to pack up.
Only the DWX725 Type 2 stand has the rollers on the infeed and outfeed supports. Type 1, which is sold on Amazon, does not have the rollers.
BORA Portamate PM-4000
This is a lightweight miter saw stand that is quick and easy to set up and fold up for quick portability and easy storage. Quick-attach mounts make setting itup and taking it down a breeze. Additional quick-attach mounts for use with other types of mountable tools are available.
The BORA PM-4004 Dual Wheel Upgrade Kit can be installed on the stand to turn the PM-4000 into a portable miter saw stand with wheels. Sturdy enough for contractors but priced for the home handyman in mind, this stand will hold up to 500 pounds. The material supports extend to a maximum distance of 9.6 feet, making it easy to cut boards over 10 feet long. The miter saw stand folds down to 3 ½ feet wide, 20 inches deep and 6 ½ inches high with a total weight of 30 pounds.
Pros:
Quick and easy to assemble
Quick and easy to set up and take down
Very sturdy
Can support longer boards
Cons:
Doesn't come with wheels
Doesn't hold up under frequent heavy use
Doesn't hold the board firmly enough for precision cuts
Bosch Portable T4B Miter Saw Stand
most types of miter saws
. Once the saw is firmly fastened to the miter saw stand, it can be used like a hand truck to move the saw from site to site.
The saw stand's height adjusts from 3 ​1⁄4 feet to 3 ​1⁄3 feet. It will hold boards as long as 18 feet and a total weight of 300 pounds. The saws leveling support feet hold the miter saw stand steady and level on uneven surfaces.
Pros:
Has 8-inch wheels as opposed to 6-inch wheels common on other rolling miter saw stands.
Quick and easy to set up on site.
Easy to move around the worksite with the miter saw on it.
Cons:
Support arm ends don't stay firmly in place. Clamps may be required.
Assembly is not straightforward and instructions are often not provided. They can be found online, though.
It weighs nearly 100 pounds.
DeWalt DW X723 Heavy Duty Miter Saw Stand
This miter saw stand has saw-horse-style legs without wheels. There are protective rubber caps covering the bottoms of the legs to protect the floor and help prevent sliding around. The stand is 32 inches high and 5 ½ feet long, but the support arms at either end of the stand extend another 3 ½ feet. This gives the fully-extended stand a total length of 12 ½ feet, but it will hold boards up to 16 feet long. If the board is longer than 12 ½ feet, simply fold down the stops at the ends of the extensions so that the board can extend beyond the arms. This saw folds down to a length of 6 feet and height of 6 inches.
Pros:
Easy to assemble
Very portable
Easy to set up and take down
Folds down to a height of only 6 inches for easy storage in a small space.
Cons:
Narrow end supports that do not provide enough support for larger 12-inch miter saws.
Boards may need to be clamped in place to prevent falling off the edge of the support arms.
Support arms may not be sturdy enough for heavier boards.
Bosch GTA3800 Miter Saw Stand with Folding Legs
Bosch
now includes wheels with the stand. This stand also has a handy storage compartment in the handle for wrenches and other miter saw accessories.
One of the legs is adjustable for added stability on uneven surfaces. The base stand is 5 feet long and stands 32 inches high. With the support arms extended, the stand is 12 3⁄4 feet long. This stand has lightweight steel construction and weighs just about 34 pounds. It can easily hold a 12-inch saw.
Pros:
Easy to assemble
Easy to set up at the job site
Convenient storage compartment for miter saw accessories.
Sturdy design
Cons:
Occasional problems with packaging falling apart during delivery.
Hitachi UU240F Heavy-duty Portable Miter Saw Stand
It weighs 50 pounds. The main beam is big enough to support 12-inch miter saws. Setting up the stand and mounting the saw is quick and easy with the included quick-release brackets. The main beam is about 4 ½ feet long. The extending support arms add another 1 3⁄4 feet on each end for a total length of 8 feet.
Pros:
Easy to assemble.
Quick and easy to set up at the job site.
Cons:
Tends to arrive damaged or missing parts.
Doesn't hold up well to frequent use.
ToughBuilt Universal 77" Miter Saw Stand
The horse-saw legs provide sturdy support while the 8 ½-inch rubber wheels make it much easier to move the saw around after it's firmly affixed to the stand. The stand sits at a height of 29 to 30 inches and provides nearly 6 ½ feet of support surface for boards when the support arms are extended. The main saw support beam is nearly 3 ½ feet long. When folded flat, the ToughBuilt Universal Miter Saw Stand measures just under 3 ½ feet long by 2 feet deep by 13 ½ inches high. The stand weighs just under 50 pounds.
Pros:
Easy to assemble
Easy to set up and take down
Very sturdy
Holds up well to frequent use
Cons:
Wobbly when stood up on its end while folded due to a poorly-placed knob.
Chicago Electric Heavy Duty Mobile Miter Saw Stand
The heavy-duty tubular steel legs have rubber coating on the ends to protect the flooring and prevent slipping. The legs can also be adjusted for greater stability on uneven surfaces.
The mounting rail is just under 5 feet long, although the extending support arms will provide support for boards up to 16 feet long. This stand weighs 56 pounds and can handle a total weight load of up to 400 pounds.
Pros:
Easy to quickly assemble
Easy to set up and take down
Very sturdy
Holds up well to frequent use
Reasonably priced
Cons:
Lag bolts need to be a little longer.
Needs a support leg to hold the stand up more securely when folded up for storage with the saw still attached.
Miter Saw Stand Comparison
Unfortunately, miter saw stands don't come with dust collection capabilities. Look for good dust collection capabilities in the miter saw you purchase. When you are looking for a miter saw stand for sale, look for one with good miter saw stand reviews. Customers who buy miter saw stands are usually kind enough to offer a good, honest miter saw stand review. Don't automatically go for the most expensive or least expensive. Some of the most expensive won't hold up while some of the cheapest models are actually quite sturdy and very well built.
The DeWalt DWX726, for example, is one of the best miter saw stand deals available. The price is about average and it's a pretty good miter saw stand once you get it assembled.
The Bora Portamate PM-4000 is a good miter saw stand for people who don't need a heavy duty model for daily use. It is a very basic stand but it does the job and is one of the cheapest stands out there.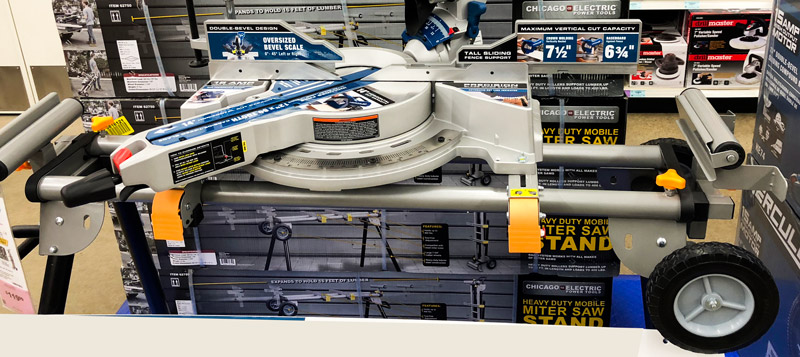 The two best middle-of-the-road miter saw stands are the ToughBuilt Universal 77" Miter Saw Stand and the Chicago Electric Heavy Duty Mobile Miter Saw Stand. They are both good stands with a couple of minor drawbacks. Right now, the Chicago Electric model is a little less expensive than the ToughBuilt model.