The miter saw is a precision woodworking tool with a fairly limited range of uses, while the table saw is designed to do the big, heavy work. One of them can do the job of the other, however, when properly equipped. Before beginning a woodworking or carpentry project, determine which type of saw is required to complete the job. Consider how often you will use it, too. Is this a one-time home renovation project or will it be used to do multiple projects? Will the saw have to be mobile or will the work only be done in a workshop or at home? Knowing the difference between the saws and what they can and can't do will help you get the right equipment for the job from the start.
The Miter Saw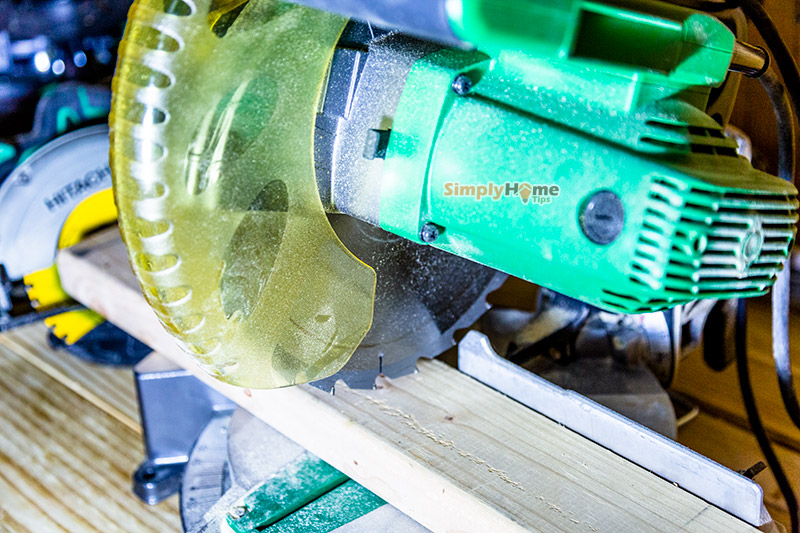 Miter saws come with a small stand, a moveable arm and a round saw blade that is attached to the moveable arm. They are light and portable. Following are the two types of miter saws:
Basic Miter Saw
The basic miter saw cuts through the board in two ways. It makes straight cuts at a 90-degree angle and angled cuts. To make angled cuts, you simply change the blade's angle.
Compound Miter Saw
Compound miter saws do what a basic miter saw does and can also be used to cut a bevel. The blade on this type of miter saw tilts to give you the desired angle.
Table Saws
Table saws are stationary saws that are actually built right into a table. Most are not easily portable. Some models are built into a cabinet or table with wheels on it to make it easier to move around the wood shop, but they are heavy. In general, they can only be moved to a different work site by two to four strong men with a big truck. This type of saw usually has a built-in dust collection system.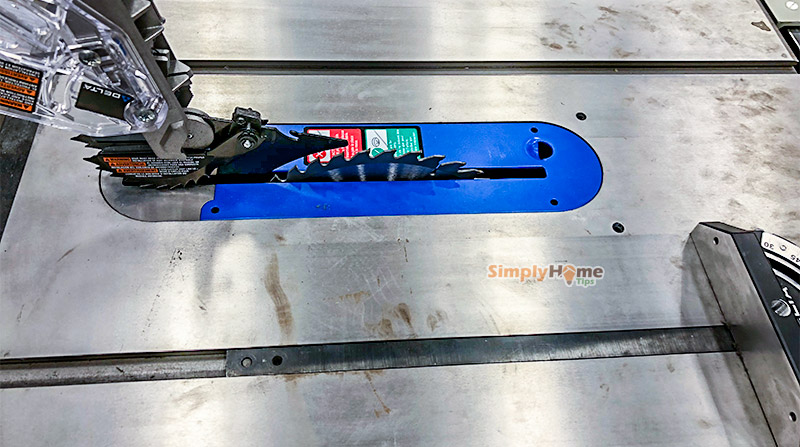 There are specially-designed semi-permanent table saws that are a bit more portable. They are just the saw part of the table saw which must be set up at the work site on a sturdy table or workbench.
Miter Saw Uses
Use a miter saw to make bevel, angle, combination and straight cuts. Bevel cuts are used to hide seams in woodwork and create crown moldings. Angle cuts are used where the ends of two pieces of wood or molding must fit tightly up against each other. The angle cut is most often used when going around corners with wood molding.
Miter saws are not useful for ripping big sheets or pieces of wood. Wood isn't pushed against a miter saw blade to cut the wood. The piece of wood must be small enough to set in position then lower the miter saw blade down over the wood to make the cut.
Table Saw Uses
Use the table saw to rip or cross cut large boards and sheets of wood. Ripping means cutting wood with the grain. Cross cutting means cutting the wood against the grain. A good table saw will be able to both rip and cross cut the boards. The table part of the table saw provides a large, flat surface that supports the wood as you push it against the blade.
Table saws can also be used as miter saws.
Determining Which Saw to Get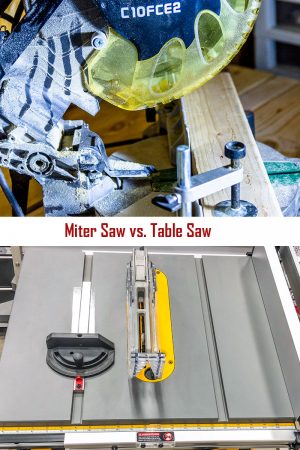 Buy a good miter saw if you're only doing minor home renovations. They are excellent for cutting small boards, molding material and even wood flooring material. If that is all you plan to do, just invest in a good miter saw.
Get a good table saw if you are getting into professional carpentry or doing a big job that requires cutting large boards, sheets of plywood and fiberboard. It can be used as a miter saw, too. Buy a table saw with a good miter gauge, though, if it will be used as a miter saw. That is one of the biggest complaints among people who buy new table saws. The fenceless, three-stop gauges aren't sturdy enough. Aftermarket miter gauges are generally better.  Miter gauges fit in the miter slot on the table saw. Most table saws have a miter slot on either side of the saw blade. The miter gauge is installed in