Home gardening and landscaping is a way to enjoy our home and rejuvenate our body & mind to the max. In that sense, outdoor lighting doubles that experience by bringing the nightlife to our home.
With the rise of technology, so does the change in the types and varieties of lights you can access. Here, we'll put together a list of outdoor lighting ideas to decorate your outdoor living.
1. Drive way & Path lights
Pathway lights are usually referred to as a set of identical lights style that shines downward to light up the stepping area. Path lights can be used to light up the driveway, paths around garden/landscaping, provide security and protection around certain plants, marking the boundaries of a planned walkway, etc.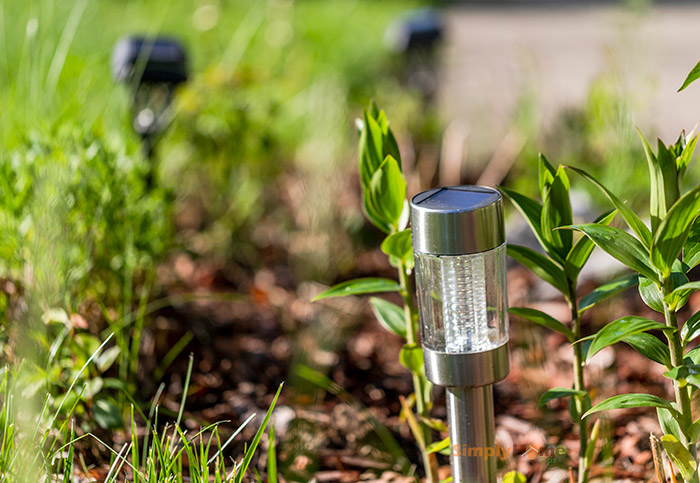 There are many options such as energy-efficient LED, eco-friendly solar power, motion detector… All of those will add some life to your usual defined traverse direction around the yard.
Many lights can be used as path lights, the limit is just your creativity. Anything like garden light, post lights, pillars lights, step lights, or even the newer light-up pebble stones can be used to mark the way. Just pick one that would fit and complement your design well.
2. LED Curtain lights
Simply put this is a connection of many strips of lights that would save you time and effort while giving one of the most beautiful and romantic looks in a jiffy. When it first appeared, most curtain lights are used to decorate wedding background, party focal stage, or simply in conjunction with your windows/sliding door curtain to bring out that dreamy looking style.
With just a few twists, look for those with outdoor capable curtain lights, you can simply hang it up as decorative for arcs, pergola, under porches, along stair rails, decks, outdoor tent,… The good thing is most curtain lights are built with LED and can be controlled with a smartphone to display different colors, rhythm sequences, dimmable, and even sync with the device's music.
3. Wall Sconces
Wall sconces are always the first choice for entryway lighting. Not only help to light up and accentuate the entrance, but a well-designed wall light will also help to add depth, dimension, and shadow to the overall scenes.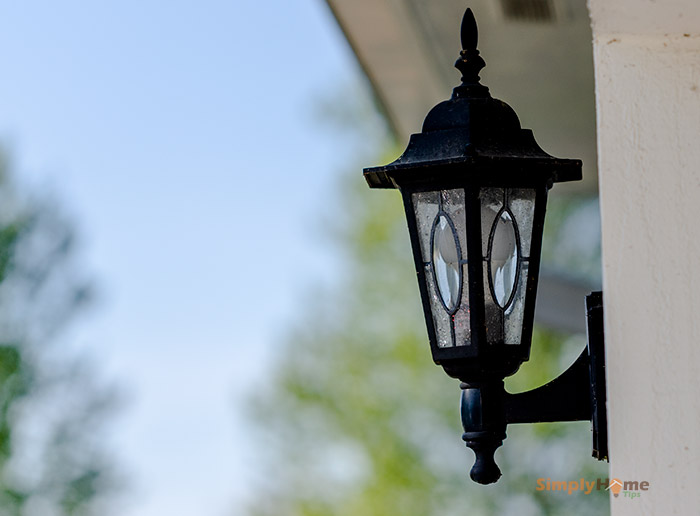 Typically, most entryway using wall sconces with warmer and more inviting color schemes.
To add to the overall scene, pick larger wall sconces so that they're visible even farther away. Curbside testing and determining the size might be a good idea.
4. Outdoor Pendant Lighting
Pendants always add sophistication to their surrounding like the main focal points. For entryways decoration, outdoor pendant lighting is the best option to upscale the whole setting.
Typically, the pendant should be mounted centered and around 6 inches above the entrance door. Outdoor pendants are usually hung by chain, wire, or cable that can resist water and weather increments.
5. Outdoor Post Lights
Post lights help to light up the way and important area without the brightness and alerting of floodlights. Moreover, post lights can serve as decorative pieces for flowers and vines to stand around or climb upon making the area a landmark both nights and days.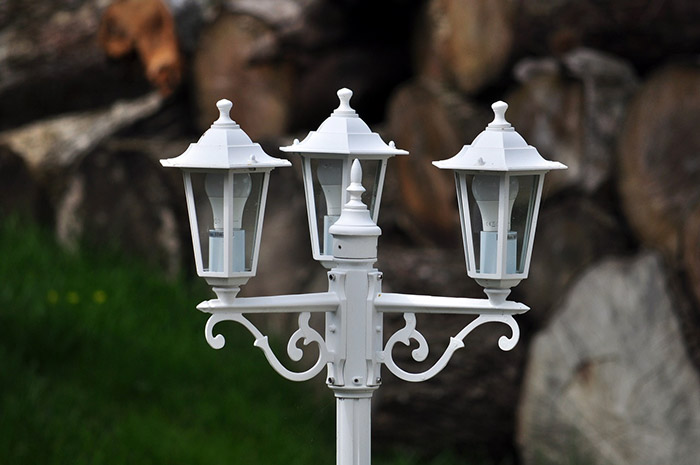 The ambiance post lights creating are long stretches for taller posts while shorter or mini-posts lights work well for a smaller path, coves, or miniature garden.
6. Strip light
If you're used to hanging and decorate lights strings around the house during Christmas and so on, you would have to know how magically they lighted up. These strip lights nowadays are made with LED, some even come in multiple RGB colors with remote control or sequential playing programs.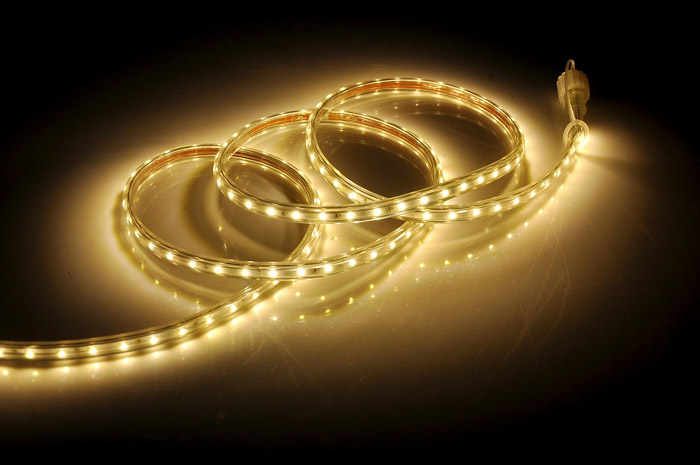 There is a newer version of strip lights like Tape lights. These are mostly LEDs that can be easily joined together or cut into smaller tapes, which then can be stuck onto any surfaces. These are often used to decorate ceiling, arc, entertainment center… For outdoor, you might tape them along the house perimeter that covered under the porch. Fences, deck rails would work too if you can find the water-resistant version.
7. Tea light
Tea lights are those flickering mini candle simulated lights that small enough to place on an outdoor table when serving. For decoration purposes, these can be placed inside a jar, covered pot to create warmer scenes on your patio furniture.
8. Mini balloon lights
These balloon lights are mini LEDs with batteries inside a round ball shape that often water-resistant. Though these are the temporal solution, these balloon lights can be a quick decoration for any outdoor party.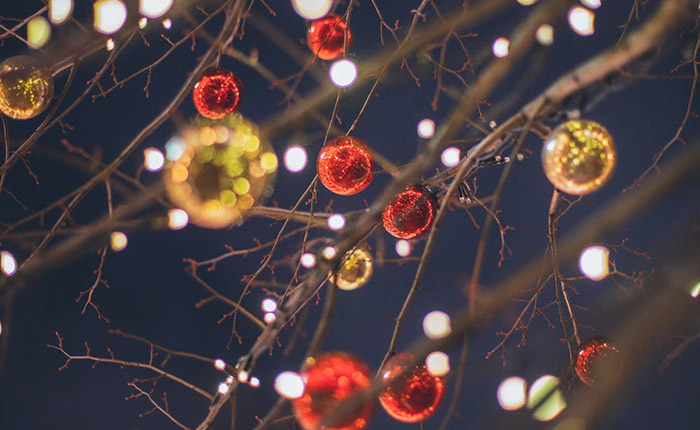 You can throw them into a fountain, small ponds, glass jars, plant pots, tree stumps…to create a special light effect. For vertical lighting, put them inside balloons, lanterns, or big flower… for a night show or game. Some of the lights can last up to weeks, just make sure to keep the tab and reinsert them when not using to save battery.
9. Fairy string lights
These are the newer lights that are super small and connected together usually on an easy-to-blend and shape metal wires. These fairy lights can be placed inside jars/vases or translucent objects to creating the shade and ambiance surround.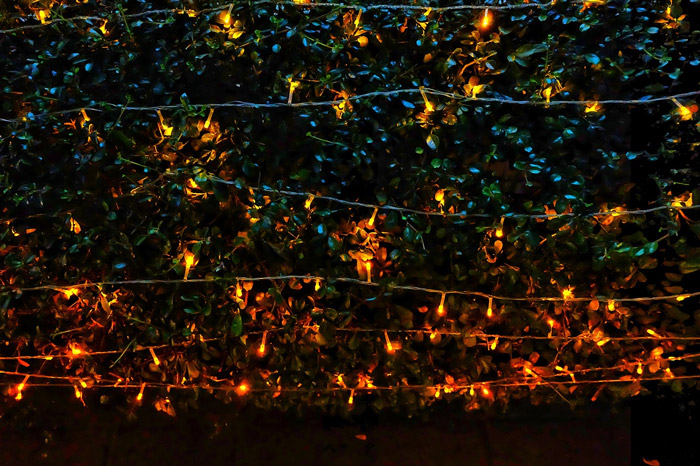 Since the wire is so easy to shape, these lights contour well to almost any decorative objects, be it stair rails, flower/branch wreaths, trees, and stumps…
Pick those that are water-resistant and rechargeable to save on energy and run time.
10. Patio lights
A magical way to light up your patio is simply hanging light bulbs across. That's all. It doesn't matter which type of bulb you're using, be it the Edison, Globe, coil, candelabra… they're all creating an extremely warm atmosphere. Though the Edison and Globe seem to be more popular choices.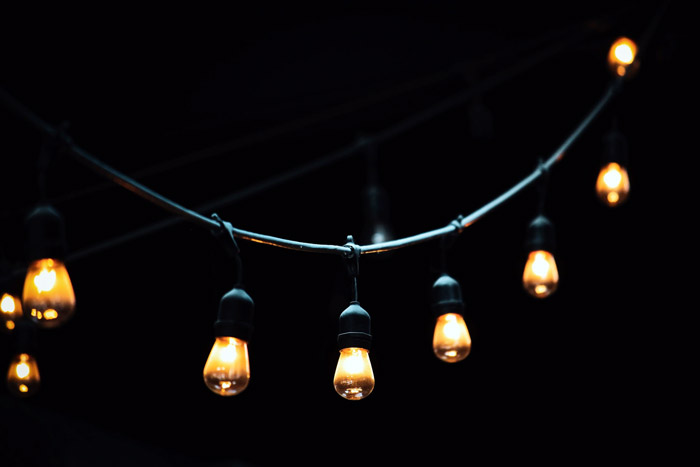 These patio lights can be connected and hung anyway, but most of the time you'd need some manual wiring to get to the desired length unless custom cut to fit.
Among all those decorative lights, these patio lights are more classics. For the occasion and special events, cover those bulbs with a lantern or special paper/wrap to generate the difference in the atmosphere.