LED strip lights have been standing out due to their energy efficiency, ease of uses, and now on their dynamic displaying. Most newer LED strip lights would come with IR remote or phone app controllable chips which make them even easier to decorate, update, or simply turning off.
There are so many strip lights on the market, yet these are the few that stand out.
1. TP-Link Kasa KL430 Smart LED Strip Lights
Parts of the TP-Link Kasa smart products line, the TP-Link Kasa smart LED strip lights are built with multiple color changing LEDs to decorate, accentuate, and create the ambiance around your home.
This light strip comes ready with many lighting effects from raindrop to rainbow. Each of the 6.6 ft strips contains 16 separate zones of colors for you to customize into a nice smooth gradient.
The Kasa strip lights work in conjunction with the other TP-Link smart home products, which connect directly to your home wifi; thus no need for an extra device. You can also control the Kasa Light Strip through smart devices such as Google Assistant and Alexa. Simply use voice control to turn it on/off and change the colors too.
There's an option to set a timer for the strip lights to automatically turn on/off by a specific time through the in-app.
If you need a longer line, TP-link does have an extension strip, which you can connect all of them to as long as 33 ft.
2. Govee Bluetooth 32.8 ft LED strip Lights
The strip is built with ultra-bright 5050 LED bulbs that can display 16 million colors divided into 15 segments, each of which can be further customized into different colors and brightness.
With a unique built-in IC chip, this led music lights can display multiple colors at the same time creating the transitional rainbow effect for your light show. Want a chasing effect? You got it, make your room vividly flashing off with multiple built-in light effects such as chasing, music-sync, crossing, flickering, fade, jumping…
The strip light can be control via the Google app with many built-in lighting modes for a quick and easy light show.
Though as cool as it looks, the only con so far is this light can only be used indoor since it is not waterproof. Still, for the price and its dynamic operation, this light can be used to decorate around the house, Christmas tree/ornaments, indoor stairs, door/window frame, etc.
3. Sanwo 32.8 ft LED strip lights
Sanwo has many strip lights options and varieties to choose from, but this one stands out due to its water-resistant and sort of weatherproof. This means that it could be used to decorate both your indoor projects or outdoor scenery.
These strip lights are 32.8 ft long with about 300 color changing LEDs SMD 5050 built-in, which last for 50000 hours. The whole string rated at 12V, yup, that's all for the magical lighting presentation.
These lights come with a remote and a smartphone app to control the displaying sequence. You can adjust their brightness, color mode (single RGB or gradient for example). There's also an attached mic in the remote for music sync displaying.
The strip is easy to customize to size to your project by allowing cutting every 3 nodes and join to the provided connectors. So you can make it short, long, or to any desired length.
The best feature would be its self-adhesive w/ pretty strong holding power, so no more nails or screw in. It can be stick to most surfaces and bend to fit in any angle. So, stick them around your house, tree, railways, path lights, etc.
4. HRDJ 65.6FT LED Strip Lights
An extremely long strip light that certainly can go around most typical lighting decorative projects. These strip lights are built with 600 LEDs on a bendable string that is neatly scrolled in their corded wheel. The total length is 65.6FT from all 4 rolls of 16.4FT each that can be easily hooked up together.
The nice thing about RGB LEDs is that you can pick the displaying color from a wide range. With the smartphone app enable, the selection has grown to 16 million color swatch. Add in dimmable function and a timer, the show has become greater with flashing, breathing, and gradient preset mode. You can also adjust your own brightness, timing, and delay settings.
The string also comes with a remote to control the lights manually or sync with your music player via the built-in microphone. For entertainment, just turn on your desire music and watch at the light moving/transitioning following the beats/algorithm.
These LED strip lights have a memory function to store the last used light setting in case of disconnection.
Unlike others, this lights strip can be cut every 3 LEDs along with its cutting marks for you to customize to the desired length. It also comes with strong self-adhesive tape on its back to stick directly onto any surface – a life-saving feature, no more hole or nail cracks.
5. Gusodor 32.8 ft Waterproof LED Strip Lights
The last but not least of our LED Lights strip recommendation, this 32.8ft waterproof LEDs Lights strip from Gusodor has many exciting features at a reasonable price range.
First is its smart feature, this LED strip can be operated via Bluetooth connection to the app on your phone. From there, you can fully customize the strips' segment color, display modes, and effects like Flashing, Breathing, strobe, gradients, etc. You can also adjust the lights' brightness with the dimmer control. Want to adjust it manually? You could do so with the included remote control
The strip also has a microphone embedded to help it perform the music sync mode. The memory capability also allows the strip to remember its last setting so you won't have to adjust them again. A built-in timer function allows you to control when the light automatically turning on/off, coupled with the visual effect, this will act as a stylish 'alarm' for your early wakeup or events' reminder.
The whole lights strip is made of 2 separate wheels which can be connected together easily or cut off at every 3 nodes marking line. This is useful when you desire an exact length for stairs, entertainment center, or surrounding outdoor figures…
For ease of hanging and decoration, this lights strip comes with a self-adhesive feature so there is no need for hole or marks on your wall. The best here is its ability to sustain against water and weathered conditions making this lights strip totally capable of outdoor use.
Guide on choosing the best strip lights for your decorative project
Adding a lights strip can turn you decorative project onto a different level with visual effect, lighting ambiance, and create the mood for a party, gathering, or simply your own comfort.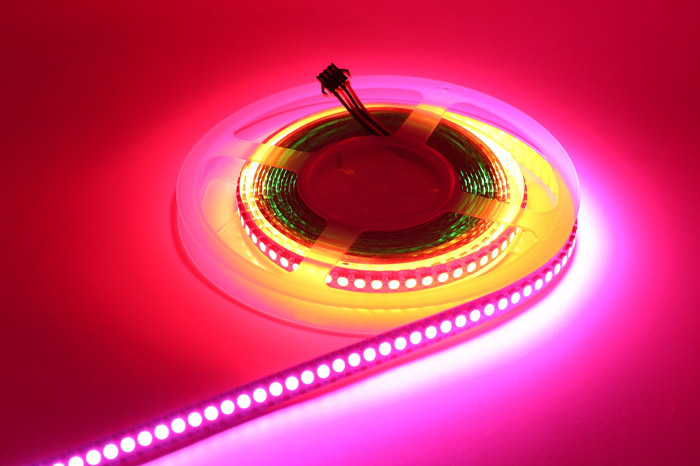 When it comes to picking the best strip lights, there are many important factors to concern. Hopefully, this guide will cover some aspects of them and help you in choosing the best strip for your need.
Length
First, you need to measure the distance or length of the enclosed perimeter that the light strip would be running on. Lights strip available on the market often run anywhere from 15ft single strip to as long as over 100ft, or simply a join of many shorter strips.
Some lights strip can be cut, usually at every three light nodes, while some are sequentially fixed and can't be customized. Depend on how big your project is pick the strip that goes a bit over your desired length for full coverage.
Location: Indoor vs. outdoor
Where you will place your strip is important as well. Most lights strip are built for indoor uses only, however, some of them come with waterproof and weatherproof capability. Of course, those weatherproof will cost a bit more, since the strip need to have extra material to cover where the backing adhesive area is, and then both the bulbs and wires are fully coated/covered.
So in a sense, if you are decorating an outdoor project like under-porch, gateway, garden arches, swimming deck, etc. make sure to pick those with the water-proof features.
Mobility: alternative power source
The nice thing about these lights strips is that some of them are built for mobility, i.e they can draw power from a battery pack, USB charger, etc. This is really helpful if you need to decorate a temporary project such as an outdoor wedding, birthday, or party where a power socket is not available. Some even use this to highlight or rim around their Halloween costume for the stunning light effects.
Timer
Some lights strip has a built-in timer so that you can configure its auto on/off period. This is very nice especially for outdoor decoration where you want your light to turn on at dusk and off by dawn for instance.
If you have the lights strip to affix to your bedroom, it would serve as a visual alarm as well and wake you up at a certain time every morning.
Color & Bulb type
If you're used to hanging Christmas light in the old days, guess what, the evolution of LED bulbs and technology give lights strip the better displaying visual at the least expense of power. You can run your light show all day and it will cost as few as 12-30W.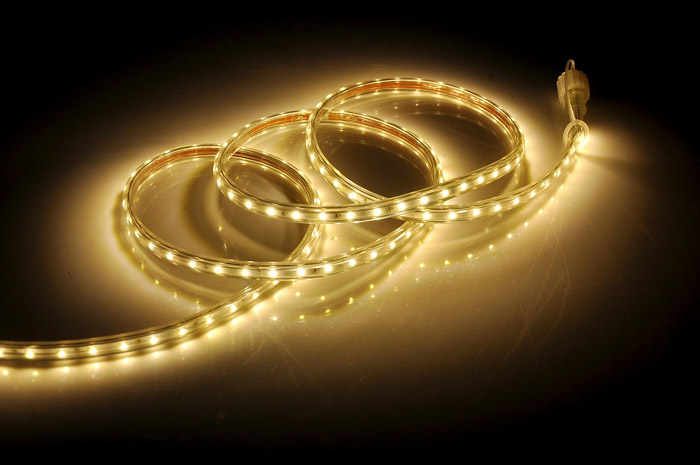 When comparing light strips, depend on your color need, choose the corresponding ones. For example, if you just want a strip with a single color to create ambiance under the cupboard, any lower-cost strip will suffice. However, if you want to customize it with color and effect, get those with RGB ready LEDs.
Smart features & Light Visual Effect
There is a vast lighting effect you can find in these light strips. Some are simple and plain with 1 single color while others have 16 million colors to choose from their companion apps.
Visual modes can be anything from still to moving, changing color, fading, flickering, gradient, etc. Some even have a built-in mic for music sync.
So hopefully at this point, you'll have a general idea of what to choose for your lighting show. Lights strip really work the wonder and so convenient to work with.