If you have been considering doing some work around the house, chances are you are somewhat familiar with a chop saw or a miter saw. Although both saws complete essentially the same tasks, there are differences. Let's take a look at the two saws, so you can make the best choice for the specific project you have to complete.
How Is A Chop Saw Like A Miter Saw?
Chop saws and miter saws do have several similarities. First of all, both have circular blades that rotate at high speeds, and both cut from top to bottom as the blade is pushed down onto the material.
Also, both saws have a stationary base with a hinged arm, which is fairly easy to operate, even for the beginner. Finally, as with any powered tools, safety practices are a must with either saw.
How Is A Chop Saw Different Than A Miter Saw?
Even though chop saws and miter saws are similar in appearance, chop saws are larger overall, with a bigger motor which allows more power and cutting capacity. Chop saw blades are typically 14 inch. A chop saw is more efficient for heavy materials, and can cut through most anything.
When using a chop saw, you are limited to straight 90 degree cuts only, as the saw blade can only be moved up and down.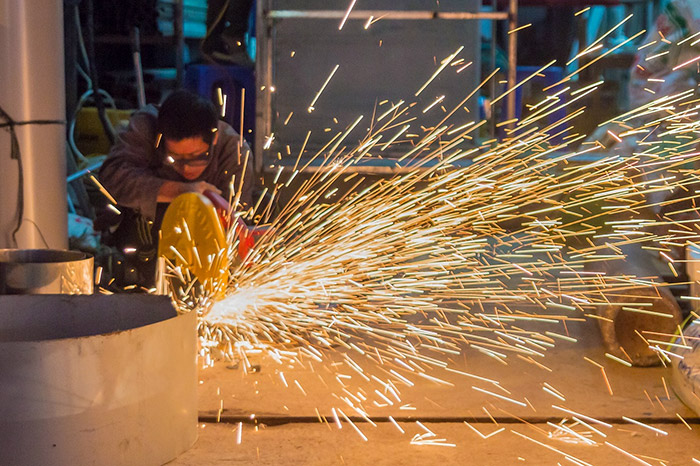 On the other hand, miter saws, which typically have a 10 or 12 inch blade, can make 90 degree cuts, but can also be adjusted to make angled cuts, or bevel cuts with some models. The finer blades of a miter saw give more precise cuts, and produce neater results when cutting materials like framing or molding.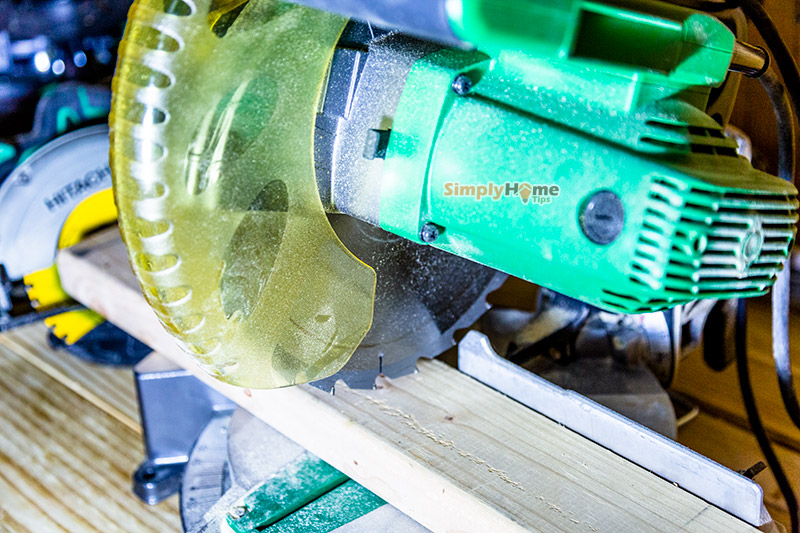 Homeowners with general woodwork projects find that the miter saw is more all purpose, as it can still be used to do the job of a chop saw on light materials. Miter saws are also somewhat safer to use, with more stability than a chop saw. Built in blade guards and dust bags are additional features common with miter saws.
The most difference between a chop saw and a miter saw
Chop saw
Larger than miter saw
Have more power and cutting capacity
Most often used commercially
More efficient for heavy-duty material
Move straight up and down and cut 90 degree angles only
Typically have a 14 inch blade
Have a bigger motor
Cut through most any material
Used by welders, fabricators, and contractors
Use A Chop Saw For These Materials:
Steel
Concrete
Rafters
Joists
Studs
Trusses
Brick
Miter Saw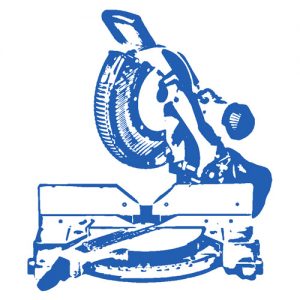 Produce neater cuts with finer blades
More appropriate for general woodwork projects
More precise
Work well on small materials like framing or molding
Miter saws can be adjusted to make angled cuts
Make bevel cuts
Typically available with a 10 or 12 inch blade
Most often used by homeowners
Used as a light chop saw, but chop saws cannot be miter saws
Safer to use, more stable, with built in guards and dust bags
Use A Miter Saw For These Materials:
Framing
Molding
Trim
Baseboards
Chair rails
Hardwood flooring
Light metals such as aluminum
Plastic
Which Saw Do I Need?
You will need a chop saw if you are going to be cutting through heavy material like steel. Also, if your project is a large one, such as the construction of a building, a chop saw would be best.
You need a miter saw for the majority of tasks around the house. If you are just fixing up a few things with no thick materials to cut, and precise cuts are a priority, a miter saw is your best choice.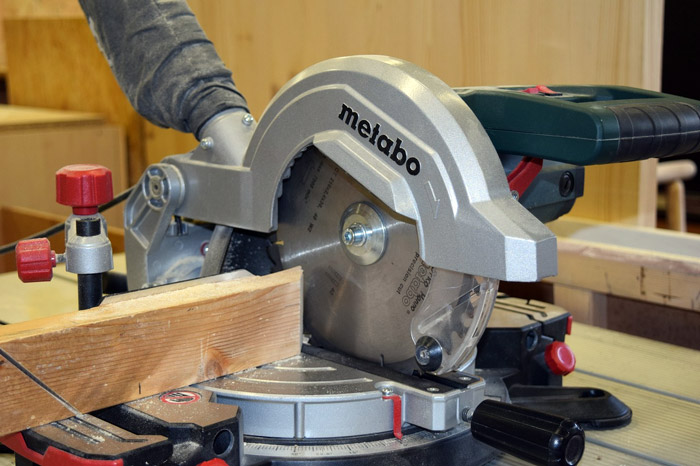 Safety Issues
Now that you have chosen the saw that best meets the needs of your project, it is time to talk about safety. Both chop saws and miter saws can be hazardous if not used correctly. Be sure to become familiar with and follow the safety tips below.
Inspect power cords prior to use and never use if cut or damaged
Make sure blades are the correct ones for your saw and match blade to the job
Install blades properly and never use if damaged or dull
Make sure saw is secure and use safety clamps as needed
Use a firm grip on saw handle while in use and use saw guards as intended
Wear appropriate safety equipment such as goggles or a face mask
Do not wear loose clothing that could get caught by a blade
More Information on Miter Saws
If a miter saw is your choice of saw for your needs, things can still seem a little complicated as you realize there are actually different types of miter saws. So, we will take a look at the types of miter saws and some information about each one. All saws listed can crosscut and miter.
Types of Miter Saws
1. Basic Miter Saw
No tilt for bevel cuts
Relatively inexpensive
Lightweight
2. Compound Miter Saw
Tilts to make bevel cuts
Some models only tilt to one side, dual compound models will tilt to both
3. Sliding Compound Miter Saw
Tilts to one side for bevel cuts
Slides for increased cutting capacity
4. Double Bevel Sliding Compound Miter Saw
Tilts both ways for bevel cuts
Slides
5. Cordless Sliding Compound Miter Saw
Tilts to one side for bevel cuts
Slides
Runs on battery power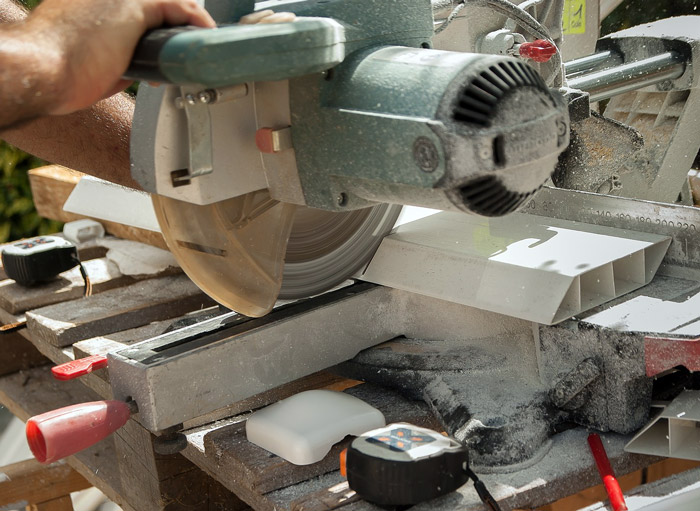 In addition, miter saw users may want to think about getting a bench or a stand to make the miter saw even easier and safer to use. Also, be aware that some miter saw models have laser guides that allow precise cutting, and LED features that illuminate the work space, making it easier to see.
Cost
Everyone knows that when you are considering a purchase, it is easy to be wowed by awesome features and to be excited about the possibilities of owning the new product. However, for most of us, final decisions are influenced by cost, so we will end by taking a look at a general guideline of what to expect if you are purchasing a chop saw or a miter saw. Also, keep in mind, chop saws and miter saws can often be rented if you are not looking for long term use.
The smallest, most basic, least powerful chop saw or miter saw can be picked up for around 50 dollars. Obviously, the more you want increased size, power, and features, the more you will pay.
The most expensive chop saws and miter saws can cost well over a thousand dollars. Blades will wear out and be an added expense regardless of the type of saw, and blades can run from 10 dollars to over 100 dollars.
Congratulations on choosing the saw that works for you. Having the right tool for any project makes the process more enjoyable, and the final product something to be proud of. Enjoy your next project!