63 percent of Americans are exposed to unsafe drinking water. Let that sink in for just a moment.
There are a lot of people and organizations that can be blamed for this growing problem. Some say it has to do with severely aged water systems that have simply been neglected by the governing bodies. Others say that the people are uninformed about this issue and do not vote to try to solve the issue.
There is no doubt that this problem is worth discussing but not before dealing with it at home. Water is essential to your health and your family's health. So, at least for now, focus on seeing if there is something you need to worry about inside your own household.
How to Test Water Quality at Home
You have already taken an important step by doubting your home's water, which is something many other Americans are doing.
There are a number of ways you can test your water like the following:
Water Quality Testing Kits
The most common way to test water quality is by using water testing kits.
These kits can be purchased online and are relatively affordable, but you have to pay attention to what you are purchasing. You want to make sure that the kit you are purchasing comes with a number of strips.
The reason this is important is because each strip will likely test for a different water contaminant. The strips should be testing for bacteria, lead, pesticides, chlorine, hardness, and even the pH value.
Strips are usually submerged in lukewarm water for around five seconds. The strip is color-coded and is going to change colors after it is exposed to your water. Then, you can check the instructions to see what your home's water contains.
Using Natural Senses
Paying attention to the water can tell you a lot about its quality, which can be done in the following ways:
Smelling
For example, the sense of smell can tell homeowners a lot about their water. A bleach smell is probably chlorine that is added by the treatment plant to keep the water safe. This is normally harmless, but a water filter can help get rid of the smell.
A rotten egg smell is normally associated with bacteria. Pour water into a cup and allow it to sit for a few minutes undisturbed before smelling it again. The bacteria is growing inside your pipes if the smell is gone, but the issue may be with the treatment plant if the smell persists.
You could also smell something musty or earth-like emitting from your water, which usually means that there is decay within the pipes. The pipes should be clean, but this water is normally not harmful.
Tasting
Braver people test the water by tasting it to see what can be detected. For example, a metallic taste is normally caused by a low pH value or the presence of too many minerals. Most of the time, this problem is solved by using a filter and replacing pipes as they might be rusty.
Of course, those who taste bleach have too much chlorine in their water. Salty water is usually linked to industrial waste, so be sure to contact the water department in your town to get to the bottom of this problem.
Seeing
Your sight can also be very helpful in figuring out what is going on with your water. Those who see brown or orange particles likely have rusty pipes that need to be replaced. Black particles normally come from the hoses in your water system, which may need repair or replacing.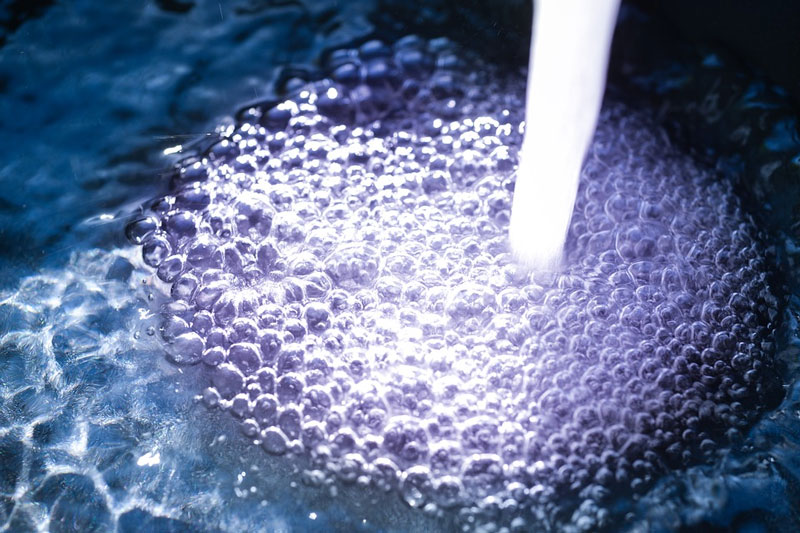 White stuff floating in the water usually means that your water has too many minerals. Now, those who see an excess amount of white particles so much that it clouds your water, should contact the EPA or local water treatment center.
It may be a good idea to visit your city or town's website. Look for the Water Quality Reports, which are supposed to be available to the public so that you can see what the latest tests are revealing about your water. Hopefully, some of these points help you figure out your water's quality so you can take action.