If you have ever discovered Blu Tack smashed into your carpet you know that sinking feeling, "Will it ever come out?" Here we will share with you what you need to know and how to have your carpets looking right again.
What is Blu Tack?
Blu Tack aka sticky tack is a putty used to posters, paper or other lightweight items to the walls without damaging them. It is usually blue or gray but can be bought in other colors. It is reusable and with just a bit of pressure will stick to most surfaces. This is not always a good thing. Grinding it into your carpets by accidentally stepping on it causes it to adhere to the fibers and overtime may even dry and harden, making it seem all but impossible to remove.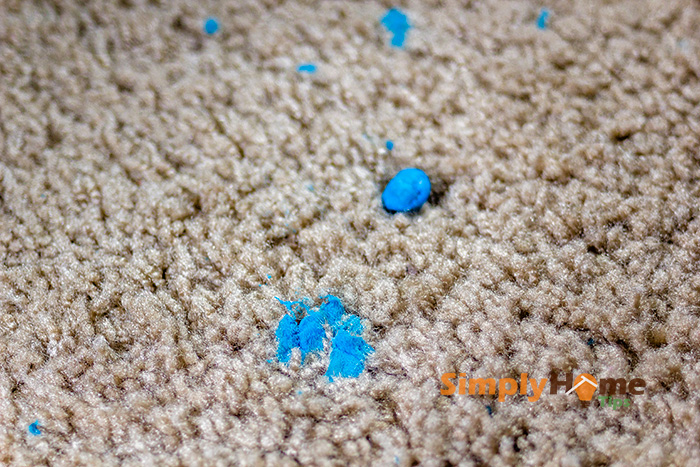 It can stay there for years looking like a piece of gum. But there is no need to lose hope, we have some solutions that will work. Whatever the method you choose you should collect a few things beforehand.
Rubber gloves
Paper towels
A dull knife or scrapper
A wide-tooth comb
If you have one a carpet spot cleaner
Some old rags
The products of choice to use
If The Blu Tack is still tacky
If it is still tacky then you have a chance to get it up before someone steps on it mashing it into the carpet.
If the Blu Tack hasn't had time to harden then first take another small amount and rub what's in the carpet. Some will pull away and stick to the blob.
Heat some water with a few drops of dish soap. And using an old cloth scrub the spot repeatedly until all the Blu Tack is removed. Rinse and blot dry.
If The Blu Tack is hardened
What if you failed to see you dropped the Blu Tack and stepped on it. Now it is dry and hard.
Heat a small amount of white vinegar in the microwave just till it is warm
Pour the vinegar over the Blu Tack and allow it to sit for just a bit.
Use a dull butter knife from the kitchen and scrape under the putty through the carpet fibers.
Remove the bits and sponge up the excess vinegar
If it does not all come up repeat the process.
The smell of the vinegar will soon dissipate, but if it bothers you just do a simple spot cleaning in your normal way and let it dry.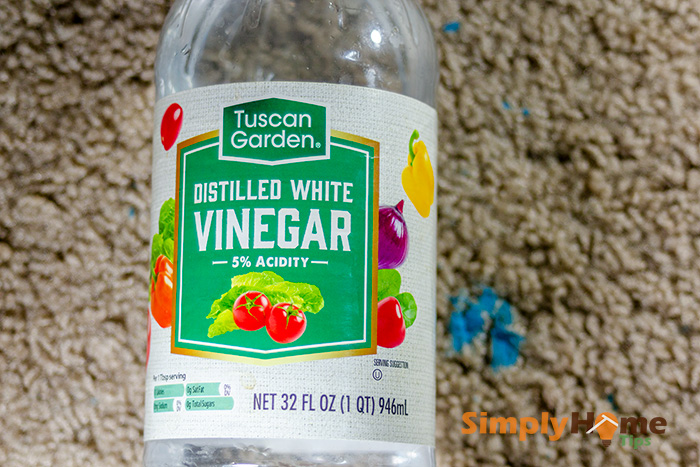 If the ones we mentioned above do not seem like the way to go here are a few other things you can try.
Vegetable Oil
Use a cotton ball and a few drops of vegetable oil to soften it.
Use a dull knife or scraper to gently pull the Blu Tack from the fibers.
Afterward, you will have to clean the oily spot with some mild soap and rinse well.
Blot dry
Citrus Cleaner
Citrus is a type of solvent that will gently dissolve the Blu Tack.
Spray a generous amount of cleaner onto the spot.
Leave it to soak for 10 minutes.
With a paper towel or cloth remove as much as you can.
Comb the area with your fingers to remove the rest.
Spot clean and rinse the area as usual afterward.
Blot dry
Heat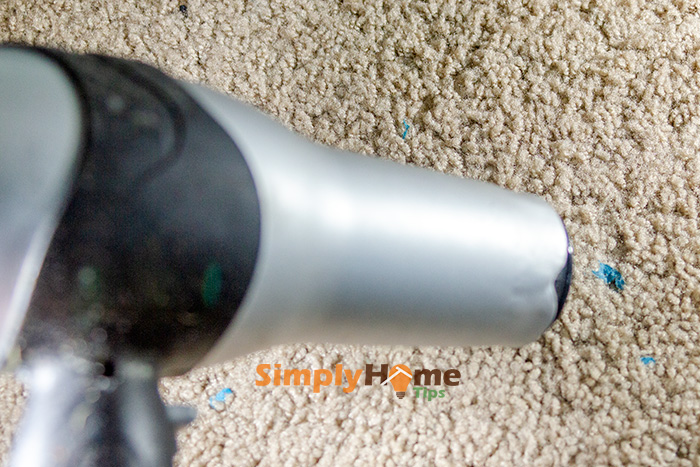 Heating is another way to soften the Blu tack and allow you to pick it out of the carpet. By gently heating it there should bond with the plastic bag causing it to pull away from the carpet.
Use a Blow dryer to heat up the Blu Tack till it is soft.
Then use a plastic bag or baggy to pick off as much as you can.
Then use Goo Gone to remove the rest.
The method you use is up to you according to your preference. The best thing to do is to use prevention. Don't let children use Blu Tack without a watchful eye. Consider using a drop cloth or old newspapers to catch any that falls. Read manufacturer's labels and keep a watchful eye.
If it is a small area, in an out of the way place or on sculpted carpeting you can sometimes snip the Blu Tack out and the place will hardly show.