Most people love these highly-effective front load washing machines since they use less detergent and need little water. Nonetheless, these washing machines need extraordinary processes when it comes to cleaning and drying out the components. You know it's time to clean your front load washer when you find it emitting an odor smell.
However, learning how to clean the machine thoroughly is generally a problem for many users throughout the United States. As a result, most of these users find their machines overwhelmed by mechanical issues and unpleasant odors due to incorrect cleaning and usage. Well, you can prevent these issues by cleaning the washing machine appropriately.
Stopping the Odors Before they Start
One of the best ways to stop odors on your front-load washing machine is always to use the right amount of detergent. Over the machine's use, deposits from commercial fabric softeners and laundry detergents may stick to the inside of the washing machine, particularly on and behind the rubber door covers.
In addition, in humid, warm weather or laundry area conditions, mold or mildew may form, especially when you forget damp outfits in the washer for a couple of hours.
How Regularly Should You Clean a Front-Load Washer?
It would be best if you clean a front-load washing machine at least once a month. However, if you live in humid or hot areas, or use it to clean heavily soiled outfits, you need to clean it more than once a month. And in ideal situations, you need to clean it properly whenever you notice any odors.
What You Need
Tools/ Equipment
Soft scrubbing sponge
Measuring cups
Small nylon brush or paper towels/rags
Materials
Mild detergent
Non-abrasive household cleanser
Liquid chlorine bleach
¼ cup of water
¼ cup of baking powder
All-purpose spray
Steps on How to Clean a Front-Load Washer
First Part – Gasket Cleaning
Locate the Gasket
A gasket is a typical ring made of rubber located along the washer's opening. Its main purpose is to create a seal, which prevents the washing machine to drip out any water. Open the washer's door as wide as possible and detach the rubber, which runs along with the opening.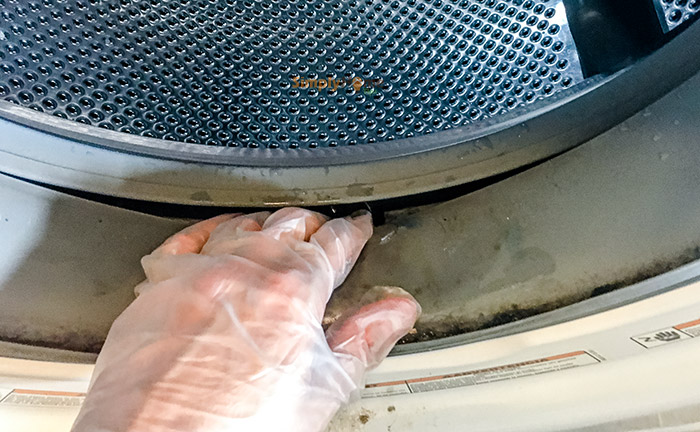 Although the gasket remains fixed in the washer, you can still open it for cleaning purposes, ensuring that nothing remains trapped. Notably, you should only clean the filter after gasket cleaning.
Remove all Foreign Objects
Look for any debris or deposits between the runner after pulling back the gasket. Ordinarily, sharp substances can damage the washing machine and gasket during machine operation. As a precaution, it is always advisable to thoroughly check your clothes' pockets and remove all items before placing the clothes in the washer.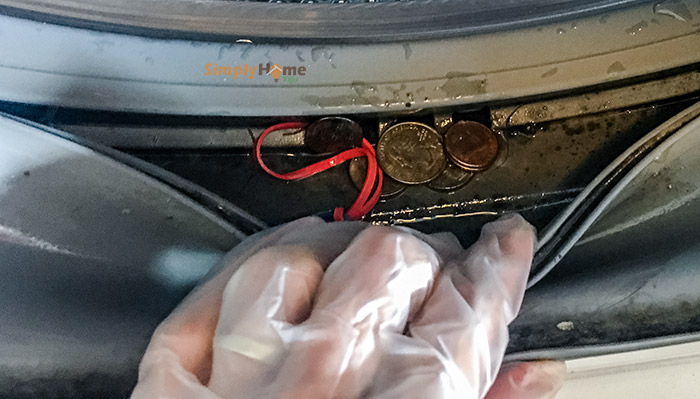 All foreign items that you need to remove from your pockets include, coins, hairpins, nails, and paper clips.
Check for Hair or Dust
Whenever you notice hair around the gasket, it means that that there is a build-up of some particles from your clothes. So, if you've siblings who have long hair, it would be wise to meticulously check your gasket weekly or bi-weekly.
If you notice that the gasket gets dusty often, you may have to keep the washer's door closed now and then. So, always keep the door closed if your pet, especially a dog, spends a night in the laundry room.
Clean Mildew
If you notice any black spots on the washer, it means that the washing machine is developing mildew. Also, it may be an indication that you're not giving the washer the ideal dry between uses. On the other hand, it may be due to leaving too much residue from the soap.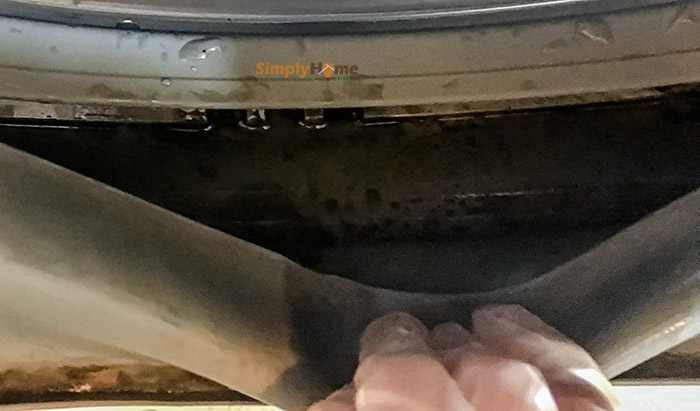 With this moisture, mold grows on your washer. All in all, removing the mildew is quite simple. Just sprinkle hot soapy water or even mildew to the gasket. Afterward, use a towel or rag to wipe away the cleaner.
However, for an oily and gasket infested by mildew, you may need to have several clothes. So, keep spraying and cleaning until the rag comes away super clean.
Gasket Deep Cleaning
Pour a small amount of bleach into empty washer and eliminate the mildew by initiating a hot cycle. Also, pour a half cup of bleach to the fabric softener or detergent compartment to ensure that the whole machine gets a superb clean. After the cycle completion, run several cycles without including any bleach.
What this act does is that it eliminates the smell of the bleach from the washer prior to using it to clean clothes again. However, if you see mildew spots or black mold even after running a machine cycle, it may be necessary to use a bleach solution and soft scrubber to rub the spots. Else, dip a small nylon brush in a solution containing less than 10% of bleach and scrub the mold.
Second Part – Drum Cleaning
Pour ¼ of Baking Soda Powder into the Drum's Inner Parts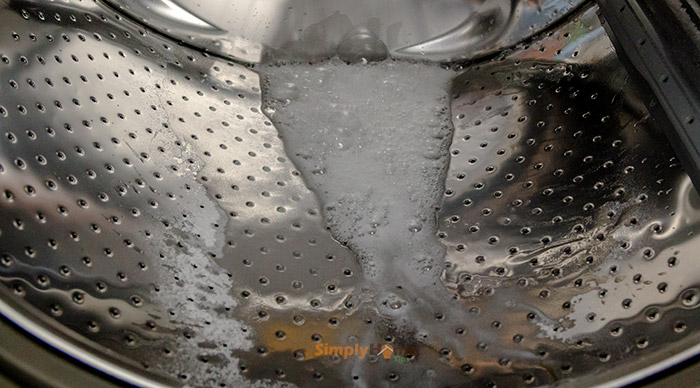 Baking Soda powder is essential when it comes to eliminating any odors from dirty clothes or mildew. Also, sprinkle some white vinegar to the drum. However, it is always essential to refer to the guidelines incorporated into your washing machine physical manual.
Turn on the Washing Machine
Configure the washer to perform a cleaning cycle if it comes with the option. Else, configure it to perform a normal wash it doesn't come with the feature. Generally, you need to select a high-temperature wash to make the baking powder and vinegar to react accordingly. Afterward, let the washer run through a complete wash and rinse cycle.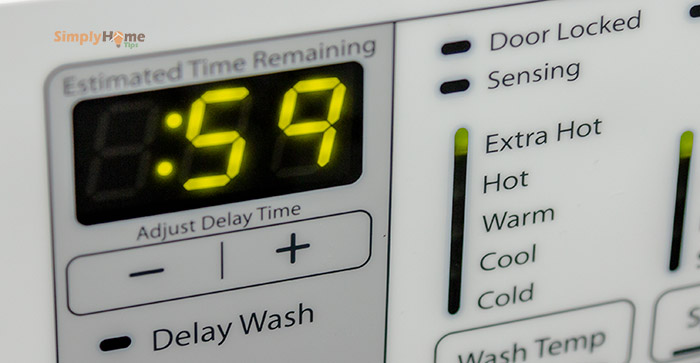 Clean the Stains
If the washer is extremely smelly and you suspect there's a growth of mildew in the inner drum, run a whole cycle with bleach. Pour two cups of bleach into the bleach dispenser. Afterward, run a complete wash and rinse cycle. Furthermore, you may need to run an extra rinse cycle with nothing placed in the drum to rinse out the washer totally.
Detergent Dispenser Panel Cleaning Process
First, detach the detergent dispenser section. Secondly, place it in warm water. Carefully spray it with an all-purpose cleaner and wipe it clean. Afterward, please put it back to its place. Besides, you need to clean the fabric softener dispenser if it's available in your machine.
Clean the Outer Parts of the Washing Machine
First, spray a multi-purpose cleaner to a piece of cloth or rag. Secondly, gently wipe all the exterior parts of the washer. Here, your task is to wipe away any dust, lint, or hair built up on the outer parts. Fortunately, cleaning the outer parts of the washer stops dust from getting into the washing machine.
Tips for Maintaining Your Washer
Always use the appropriate detergent
Remove your clothes immediately after you're done
Always dry the gasket between uses
Detach, and dry out the dispenser trays