With warmer weather just around the corner, many of you are probably thinking about ways to improve your outdoor living spaces. Staining your deck is a good first step: Not only does it spruce up the appearance, but it also works to protect the wood itself.
Once you've decided to stain your deck, there are still many factors to consider. To name just a few:
Types of stain
Colors
Volume–i.e, how much product you'll need to cover the entire surface, including stairs and railings
Additional supplies
How often you'll need to reapply the product for best results
Sound daunting? Actually, it's not–all you need is a little advance preparation. Here's a handy guide to get you started, complete with in-depth reviews of some of the top products on the market.
Reviews on the best stains for decks (

Semi-Transparent

)
Ready Seal Exterior Deck Stain and Sealer
This is a great all-purpose sealant, especially appropriate for those on a tight schedule as it requires no primer and can be re-applied even when the first coat is still wet. You can apply Ready Seal using either a sprayer, a roller, or a traditional brush, making it a good choice if your deck has a lot of hard-to-reach spots or elaborate railing detail.
As these products go, Ready Seal is particularly user-friendly, with easy application and quick cleanup. It also provides solid, uniform coverage overall.
Available colors include:
Dark Walnut
Golden Pine
Light Oak
Mahogany
Natural Cedar
Pecan
Redwood
DEFY Extreme Semi-Transparent Exterior Wood Stain
This is a water-based, environmentally sound product that utilizes up-to-date technology to provide long-lasting results. The stain offers UV protection and easy maintenance–there's no need to strip and sand the deck once it's time to perform touch-ups.
While the product is generally easy to apply, be sure to read the instructions carefully before beginning work, as there are important details that might not cross your mind otherwise. For example, it's inadvisable to pause work in the middle of a board, as the line will be clearly visible once the stain is dry. DEFY holds up well even in damp climates, requiring application every three years or so.
DEFY Extreme Semi-Transparent Exterior is available in the following colors:
Butternut
Cedar Tone
Crystal Clear
Driftwood Gray
Light Walnut
Natural Pine
Redwood
#1 Deck Premium Wood Stain For Decks, Fences and Siding
Another good all-purpose choice, as it acts as both stain and sealant. It's also water-based, provides UV protection, and results in a natural-looking finish.
#1 is easy to apply, and the results are both impressive and long-lasting, with a smooth overall finish. It provides solid protection against slippage, too, so if good traction is a priority, this is the stain for you.
This product is available in the following colors:
Cedar
Dark Walnut
Light Walnut
Natural
TWP (Total Wood Preservative) Gemini (Cedar)
One of the more affordable choices on this list, Total Wood Preservative offers a non-peeling, water-resistant stain, with superb longevity. The product maintains its integrity even when the deck stands in direct sunlight (which often causes the wood to fade more rapidly). In high-moisture climates, it will need to be reapplied every two years; in lower humidity, you can likely wait another year or so before it begins to fade.
KILZ Exterior Waterproofing Wood Stain (Semi-Transparent)
Aside from being waterproof, this stain is also mildew-resistant, and offers protection from all manners of weather. KILZ provides a three-year warranty on the product when used on decks, and a five-year warranty when used on decks and siding, making it a great value for the already affordable price.
Be forewarned that KILZ recommends a good deal of base work before the staining process–including sanding–for the best possible results. The stain itself is thinner than some of its competitors, which may cause it to run during application if you're not careful. However, this also means that the product may stretch further than others, so it's worth a look for anyone who's patient enough to give it a try.
KILZ is available in either cedar or redwood.
Types of Deck Stain: What to Know
To help you refine your search, here's the rundown on the different types of deck stain, and the pros and cons of each.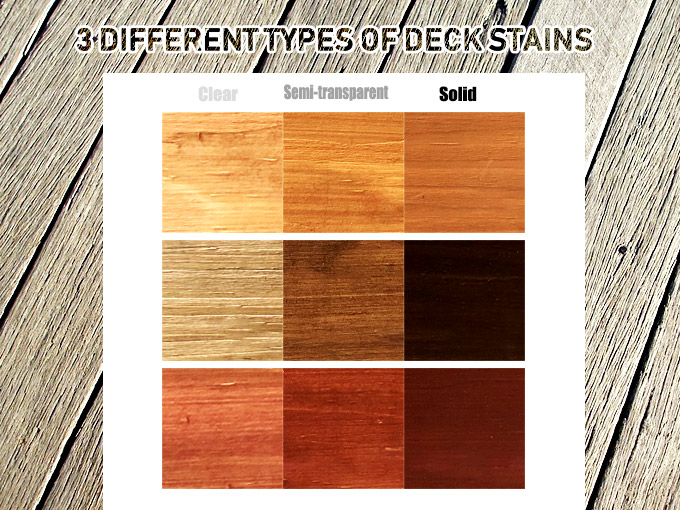 Clear
Clear stains are, as the name suggests, transparent, allowing the natural grain of the wood to shine through. Purists will be fans of this type, as it offers protection without destroying the wood's quality and integrity. The lack of oils or pigments is another plus for those concerned about the environment.
Bear in mind, however, that these stains are not long-lasting–on average, they'll need to be reapplied once a year. While they do contain water repellent and wood preservatives, they don't offer any UV protection, meaning they'd be best suited for decks that don't get a lot of direct sunlight.
Semi-transparent
These stains offer a greater degree of protection, but the grain of the wood is still visible through the pigment, making them a good compromise. The stain is likely than its counterparts to peel or flake off–it seeps into the wood itself, offering a longer-lasting result than the clear variety.
Solid
Solids are more like paint than stain–they sit on top of the wood, protecting it but also masking its natural beauty. While they're useful when it comes to covering flaws and discoloration in the wood, they are also prone to chipping and flaking, making regular maintenance a must.
Colors
As the products listed above would suggest, there are many different options when it comes to color. But which is the best choice for your deck? Fortunately, it's an easier question than the wide assortment of choices would lead you to believe.
First of all, consider your own personal taste. Do you prefer light or dark wood tones? A golden hue or a reddish one?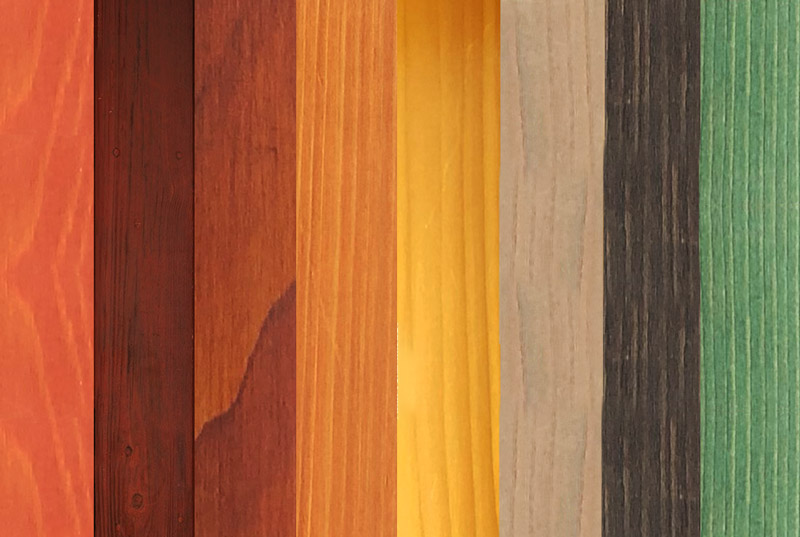 Once you've narrowed the field, consider variables such as the color of your house, the nearby trees and shrubbery, and the transitional effect of the room the deck is an extension of. When in doubt, use a color that will complement one or all of these, to create a unifying effect.
Volume: How Much Stain Should I Buy?
Before you begin your project, measure your deck. Depending on the brand and the consistency of the product, deck stain can cover an average of 150 to 300 square feet per gallon. Don't forget to include the railings, as well as any stairs or landing platforms that also need coverage.
Here's how to determine the total square footage of your deck:
Measure the surface area: Multiply the length by the width of your deck floor, including landing platforms or secondary levels, and write down the number.
Measure the railings: Take down the linear footage of all your deck railing, then multiply that number by the railings' average height (which is typically about three feet). Record this number next to the first.
Measure the steps: Count all the steps, then measure the stair's width and multiply those two numbers. Put this third result next to the first two.
Add all three numbers together to determine the total square footage.
Always err on the side of caution, and purchase more than you think you'll need. There's nothing more frustrating than getting halfway through a project like deck staining, only to be forced to stop due to lack of supply.
And speaking of supplies . . .
What You'll Need: Additional Supplies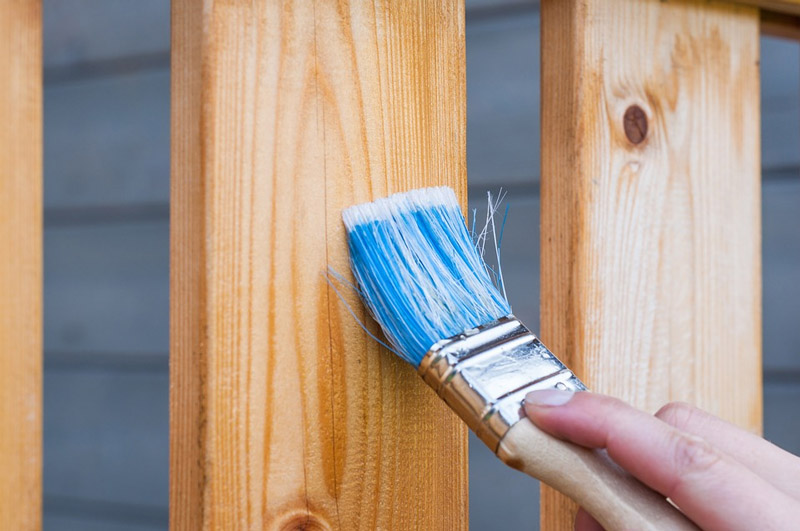 Here's a list of all the items that could come in handy during your staining project. Even if you don't use all of them, it's always better to be prepared.
Clear Plastic Sheeting
Garden Hose
Broom
Putty knife or scraper
Sandpaper (80 grit works best)
Sander
Spray applicator
Roller and tray
Paintbrush
Deck cleaner
Stain of your choice
Disposable rags
Other Considerations
Here are some other things you should be mindful of when you're planning to stain your deck:
Keep an eye on the weather. You don't want to block out a large chunk of your weekend, only to have your plans stymied by rain.
Sweep up all debris beforehand. Be thorough; grit will ruin the effect you're trying to create.
Clean in between the crevices. It's best to use a putty knife or other straight-edge tool for this chore.
Cover nearby plants and shrubbery. If using a sprayer, be extra cautious with your aim.
Keep pets away from wet surfaces. You'll want to keep them inside during this chore–or, if possible, have them go to a sitter's for the day.
With the right preparation, the perfect product, and a positive attitude, staining your deck can be an enjoyable chore–with results you'll cherish for many years to come. Best of luck, and here's to all the days of fun in the sun that lie ahead!